Finally .... The Prince takes Fort William .....
As is well documented .... the Prince's Highlanders never captured Fort William!

They did try, mind you, on their way back in late Winter 1746 well before Culloden which was in April. Having taken Inverness and blown up the castle there, they went on to capture Fort Augustus. But Fort William held out. On the way forward in August 1745 the Prince by-passed the Fort to avoid any delays in his march to Edinburgh.

So it was with especial delight that Arran Johnston and Fiona Campbell accompanied by a host of stitchers, artists and spouses converged on Fort William to [a] erect the Tapestry in the Nevis Centre for all to see across two days; and [b] to enjoy the hospitality at a Civic Reception kindly given by Lochabar Provost, Cllr. Allan Henderson. Also in attendance was local Westminster MP for Ross, Skye & Lochabar, Charles Kennedy.

This was all taking place at Fort William on the 265th anniversary of William, exiled Duke of Atholl, raising the Prince's Standard at Glenfinnan close by. And it was a date that also saw the Offer by Lord Tweedale of a Reward of £30,000 in 1745 for the Prince's capture - as depicted in the top panel immediately below, which was stitched by Dianne Laing of Innerwick.

click to enlarge all images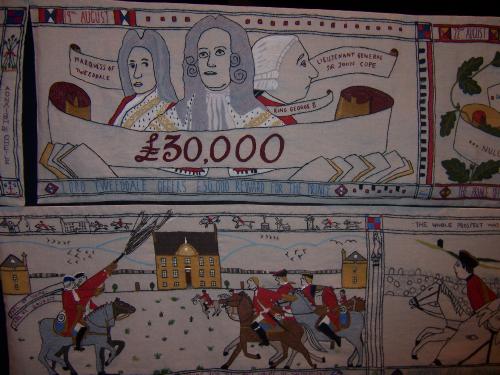 The Provost had many childhood memories to recall, not least tales of Fassfern and the White Rose the Prince plucked there which his mother had oft recounted - he is seen below enjoying that panel stitched by Panner Simone Cunningham. Provost Allan Henderson also kindly gifted to the Trust the 'Arms of the Highland Council'.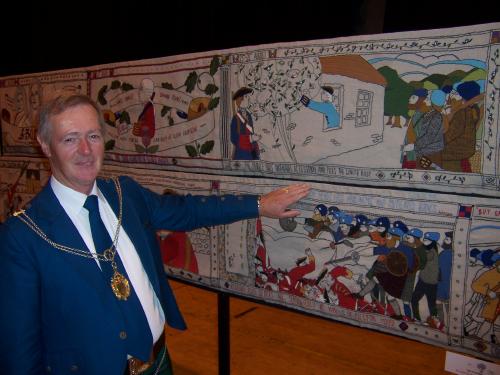 The host of local stitchers involved in creating the Tapestry included: Christine Haynes [Mallaig], June Cairns [Arisaig], Pauline Elwell [Arisaig], Helen Brodie [Arisaig], Anne Cameron [Arisaig], Daphne Stewart [Caol], Sandra Provan [Corpach], Sandra Casey [Fort William], Helen Nairn [Kinlochmoidart], Norma Callison [Fort William], Karen Lees [Fort William], Johan Morton [Fort William] and Joan Kerr [Banavie]. Joan has lately issued a challenge to the Trust to design a Sponsored 'Something' that embroiderers across the nation can participate in to raise funds for the eventual Living History Centre. Bravo Joan!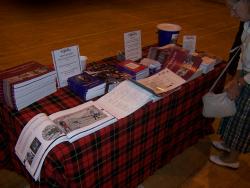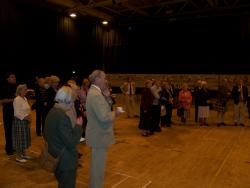 104 metres seen in their full majesty across the hall at the Nevis Centre

The visit to Fort William was the first occasion, including our own private viewing in Prestonpans on July 26th, when the Tapestry was laid in a horseshoe pattern across a single space. It was both daunting and amazing to see. No photograph here can really do it justice. Indeed the pictures below simply show some of the most intriguing detail. For instance, the Tapestry receives its first 'formal' school visit on Friday 20th August - youngsters from Ardgour Primary led by Head Teacher, Mary Adam.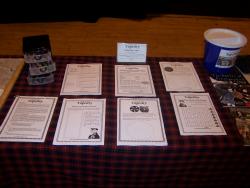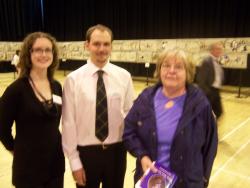 .... and talking of firsts, the 1000th visitor was welcomed as expected by midday at Fort William. We clearly took the lady concerned [above] by surprise but she received the reward from Arran Johnston - a signed copy of his new book Valour Does Not Wait.

The photographs below capture cameo images on the first day's exhibition and include Christian Aikman, longtime Secretary of the 1745 Association and acknowledged expert [right/ talking with Lead Stitcher Dorie Wilkie]. We were all delighted Christian was herself 'delighted' with it all! By the end of the third day well over 600 visitors had been received.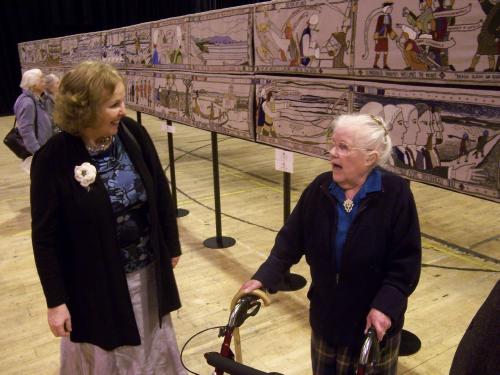 Charles MacFarlane, local historian and particular expert on Glenfinnan was there too - pictured with Andrew Crummy. [However, it has to be recorded that he 'wrongly' identified the Trust's new Kate Hunter portrait of Prince Charles as 'probably' Prince Henry, and so blotted his otherwise impeccable copybook!]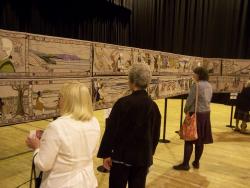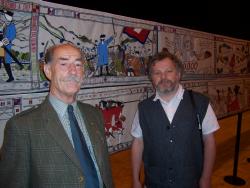 Arran Johnston Met the Challenge ...

It was always going to happen. The Trust's elegant hired white Battle TapVan lost connectivity in the Pans on its starter motor, and more, just the day before the exhibition was due at Fort William. But our hirer rose brilliantly to the challenge and all was well. The decaled sides not so far seen on the website can now be seen below .... the whole in good working order.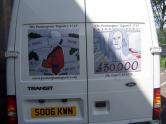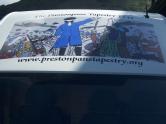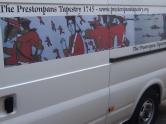 Published Date: August 22nd 2010