Newbattle Abbey 'Monks' Walk Again - Looking for Salt in The Pans
'Cistercian Monks' Take a Walk in the Sun

The Arts Festival was once again delighted to welcome the 'Cistercian Monks' from Newbattle Abbey - current students and local Dalkeith walkers. As they had in 2009, under Rae McGhee's leadership some 40 brave souls re-enacted the ancient ritual of Cistercian monks making their way to the sea shore at Prestonpans to gather sea water to make salt. It was a blistering hot day and all concerned needed extra 'salt' anyway and they were also invited to some in-house hospitality courtesy of The Prestoungrange Gothenburg.

click to enlarge all images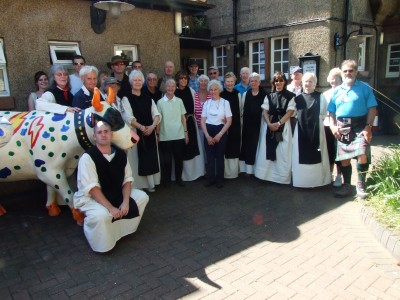 This year 'high salinity' sea water had been provided by the Goth's Chef Andrew Laurie so that the walkers could finish the salt making themselves - in 2009 Preston Lodge Chemistry Club had obliged [as shown packaged herebelow.]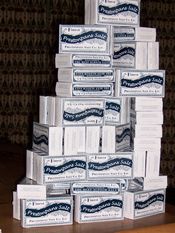 The Arts Festival very much hope this will remain an annual event with even greater involvement in Prestonpans as well. Next weekend sees the Arts Festival and Fowler's Ales making their way to Newbattle Abbey as it celebrates its Celtic Festival!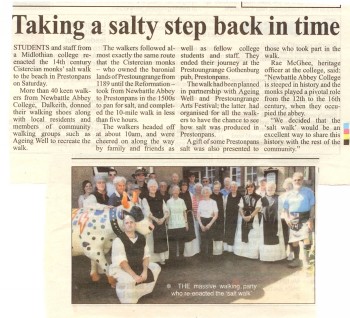 _________________________________________________________________________

Breaking News .....
Malcolm Scott & Baron of Dolphinstoun hope to get 'Salters' Way' better 'interpreted' as Wallyford develops in the coming years ....

The main thoroughfare through neighbouring Wallyford has long been known as Salters Way and an initiative is about to be taken by Dolphinstoun and Malcolm Scott to discuss with Wallyford Community Council how that might be better 'interpreted'. The rationale is perhaps unusual. Dolphinstoun has lately disponed gratis that portion of his solum land at Strawberry Corner to Malcolm Scott which was necessary to enable the proposed new Wallyford road to the east to meet the old Great North Road at a new roundabout. [Malcolm Scott, for the record, is the lead developer for the ambitious plans at east Wallyford and a long standing supporter and Trustee of the Battle of Prestonpans Heritage Trust.] In return for Dolphinstoun's donation to the development plans Malcolm Scott is keen to reciprocate and support research and 'interpretation' of Salters Way. So keep walking Newbattle ... you've raised the salters' profile and it's getting traction!




Published Date: May 22nd 2010