Stitchers All! Here's the INVITATION you have been waiting for - July 26th
Please all read most carefully. This is the Prince's Royal Invitation for All Stitchers to come to the 'Private Viewing' and 'Book Launch' in Prestonpans on July 26th 2010 from 11am till 8pm

That sounds like a heady and lengthy day, and so it is. But there will be seats and entertainment and excellent food with a soft drinks bar. The full schedule is on the second card below.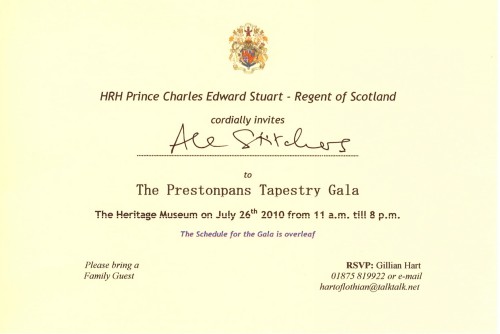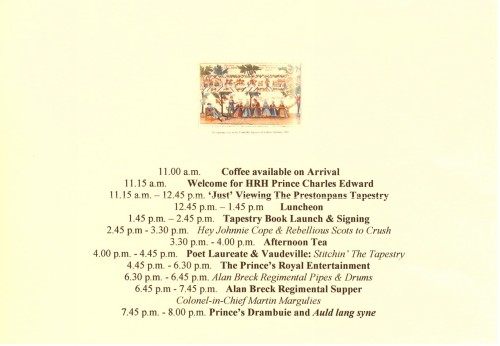 We are also sending this invitation by snail mail and attached email to all we believe should receive it. But we don't have a full set of addresses so we are trying to cover every eventuality.

There's a Briefing letter, and an Attendance Notice from you to us, also attached here to be downloaded. Print out the Attendance Form and mail to Gillian Hart or send her an email at the address shown, or simply phone except Mondays to the Gothenburg. We do want you all to come and ... to bring at least one family member too. You and that first guest are gratis for the whole day. But you can bring another two guests if appropriate too [or your entire team of embroidering assistants Bless Them!] although after you and your family guest we'd like to suggest a contribution to the charity of say £10 each - send no money, just donate on the day.

CLICK HERE TO DOWNLOAD BRIEFING LETTER TO PRINT OUT

CLICK HERE TO DOWNLOAD ATTENDANCE NOTICE TO US TO PRINT OUT & RETURN

So, please get the date in your diaries at once, and tell us you're coming. But if you really cannot make it, you can rest assured that The Prestonpans Tapestry is on public tour throughout August and September across the Highlands.

ONE FINAL THING please ... are you an entertainer?

On the day we shall be recruiting Vaudeville actors al fresco to assist but more importantly, some of you we know have entertaining skills. Some write poetry, others sing, play the fiddle, one we know rings bells ... whoever you are His Royal Highness Prince Charles Edward will welcome your contribution during the afternoon so, please make yourselves known to Gillian Hart/ Dorie Wilkie/ Andrew Crummy asap so we can schedule you in. [Don't worry about the Vaudeville. It's based on the Bayeux in Paris for Napoleon in 1804 and satirises the embroiders and the artist's and Prince's vainglory! We write the script, you just act the lines.]



Published Date: May 21st 2010