'Duke William & Lady Lude' Host The Tapestry at Blair Castle
... of pineapples and bowls …

On the precise 265th anniversary dates of the Prince's sojourn there, August 31st/ September 3rd, the Prestonpans Tapestry was put proudly on display at Blair Castle. It is to be hoped Lady Lude, who clearly loved partying and arranged the Prince's Ball in 1745, would have approved of the panel stitched by Sylvia Robertson [far right] and friends from Clan Donnachaidh - Robertsons all - as shown below [from left Ingrid Robertson, Lead Stitcher Dorie Wilkie, Jenny Stark and Anne McBay]. Be sure to click on all photographs to enlarge.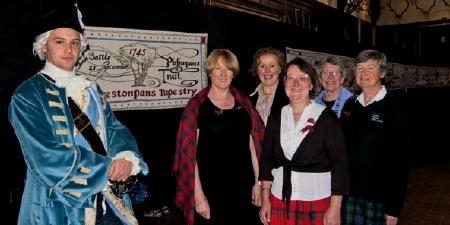 It was here that the Prince first tasted pineapple grown in the conservatory and played bowls [both depicted]. It was also Duke William of Atholl's first return 'home' since his exile for supporting the Jacobite cause in 1715.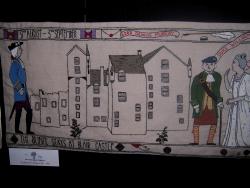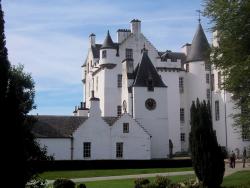 The Blair Castle panel # 36 was one of the numerous additions above the original 79 occasioned by 'popular outcry'. Having learnt of the creation which was in hand a shout went up from the Robertsons of Straun and more, led by Sylvia, an archivist at the Castle, that a panel telling of their role during the '45 should be included. Andrew Crummy gladly complied and made absolutely sure he was at Blair Castle on August 31st with many of the Panel Beaters led by Dorie Wilkie – chauffeured in the Arts Festival's own Wiles' bus by stitcher Kate Edmunds.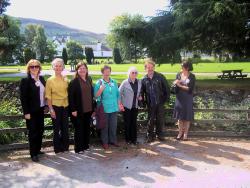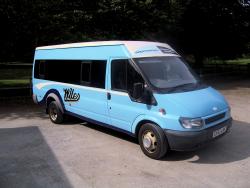 Blair Castle's Hall was a truly magnificent setting

The castle itself and its Gardens of Hercules were always going to be a magnificent setting to display the Tapestry and the Hall provided the first occasion that Arran Johnston assisted again by Andrew Allcorn was able to display all the panels in a single run, back and front of the 54 exhibition boards. On the first day alone nearly 500 visitors saw the artwork with the grand total by the end of four days at more than 1700 - taking the tour past the 4000 mark.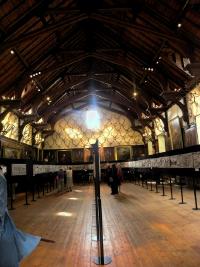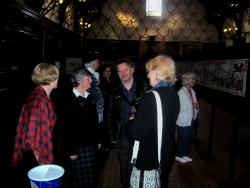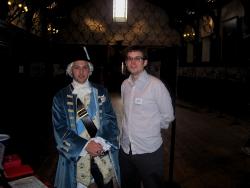 ..... and the Alan Brecks Joined the Prince at Blair Castle too much to the delight of visitors ...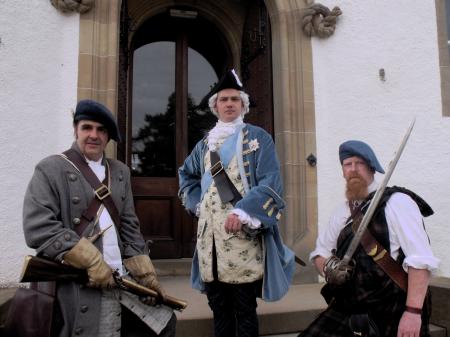 Published Date: September 10th 2010