The Apocalypse Tapestry at Angers, France
General Election Day: May 6th 2010 - what better day to review The Apocalypse with its commentary on contemporary Franco/ English politics!

Les Tapisseries de l'Apocalypse were conceived and executed by Nicolas Bataille and Robert Poinçon between 1375 and 1382. The designs were created by Hennequin de Bruges for Louis I, Duc d'Anjou and latterly King of Naples & Jerusalem. They depict biblical scenes of the end of time but add their own commentary on fourteenth-century political struggles with the ever warring English.

Only seventy of the original one hundred tapestry panels remain – the rest having been lost during the turmoil of the French Revolutionary era at the end of the 18th century.

The two panels below are typical examples. The first is taken from Revelations 11: 1-2, and depicts John measuring the Temple: Then I was given a measuring rod like a staff, and I was told: "Rise and measure the temple of God and the altar and those who worship there, but do not measure the court outside the temple; leave that out, for it is given over to the nations, and they will trample over the holy city for forty-two months".

click to enlarge both images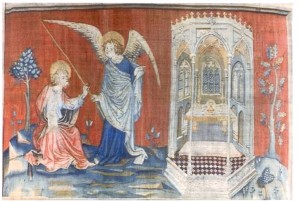 The second records again from Revelations, 11:15-16, that: Then the seventh angel blew his trumpet, and there were loud voices in heaven, saying, "The kingdom of the world has become the Kingdom of our Lord and of his Christ, and he shall reign for ever and ever." And the twenty-four elders who sat on their thrones before God fell on their faces and worshiped God.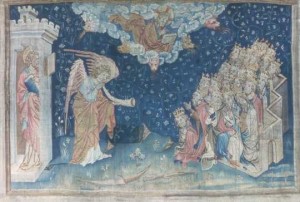 To see the full extent of the surviving panels, click HERE FOR A DIRECT LINK

The Apocalypse was until the French Revolution the longest tapestry in the world, but after that Bayeux held that distinction. As our own Prestonpans Tapestry is stitched together this July we believe the distinction passes to our 104 metre artwork - until the Thames Tapestry is completed for the London Olympics in 2012.


Published Date: May 6th 2010