May 31st or June 30th? Which deadline is it then?
SORRY! VERY SORRY!

I hope that's a good way to start?

Webmaster here, confession time. And apologies for the confusion I have seemingly been sewing.

The absolute FINAL deadline to have the completed panels back in Prestonpans in Dorie Wilkie's hands is June 30th 2010. But that does mean in Dorie's hands please not in the post.

That's also the absolute FINAL deadline for the black and white action photograph and CV/ autobiography of all Stitchers/ Groups, with names annotated on back please of the photographs.

So what's this about May 31st then?

... that's a wish, as many/ much as possible by May 31st so that from that date we are just keeping an eye out for/ chasing up the missing few.

So, apologies for sewing confusion with some of you fine volunteers; but please get the finished panels in just as soon as you can.

N.B. Of course, there's no need to wait for May 31st is there .... but I better stop whilst I'm ahead eh ..

[signed] Gordon Prestoungrange

What's a black and white photograph look like?

Something like this ....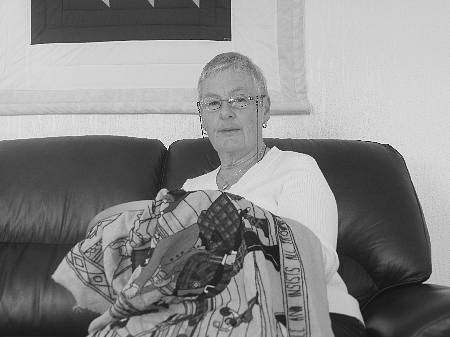 What's a CV/ autobiography?

Something like this ....

#34. Sir John Cope arrives at Inverness – August 29th
The panel was embroidered Joan Campbell [seated] and left to right Hazel Bennett, May Bowie [leader], Margaret Hogg & Barbara Armstrong. They're all members of the University of the Third Age [U3A] in the Craft/ Cross Stitch Set of East Lothian who share and enjoy this and many other leisure and learning interests.






Published Date: April 9th 2010