Dorie [& Tom & Andrew] on Inspection Tour ... MidWay and Beyond ...
Beyond MidWay ...

As Stitchers might have guessed, since the MidWay Workshop had enjoyed itself on March 24th, Dorie's eyes have been proactively focussed [as they say] on seeking completion of all 103 panels by May 31st [ - Yes, the absolutely final deadline is June 30th but it will help enormously to be finished by May 31st!]. Provided that's achieved, the pressing & backing & sewing into fives back in Andrew's studio can all be done in good time. They, and the full colour 275pp book, have to be ready for our own Private Viewing on July 23rd/ 26th in Prestonpans. And then for that Parade with the Prince and Sir John through the Highlands from Eriskay - starting end July.

So Dorie, with husband Tom in the driving seat and Andrew Crummy as passenger, has continued her field visits. At the beginning of last week they were all in Fort William where Stitchers from Morar, Arisaig, Kinlochmoidart and the Fort itself were gathered in. By the end of the week Dorie's eye had already settled on those embroidering in Inveresk - seen first here.

click on all photographs to enlarge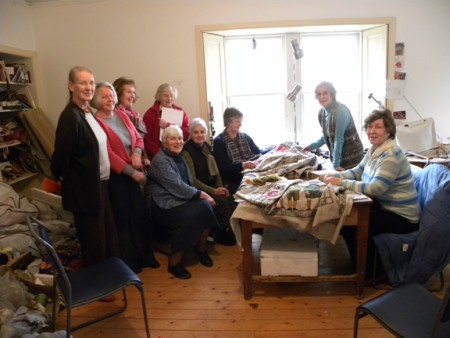 ... then came Pitlochry, Blair Castle and Perth - these latter occasions pictured below.

Sylvia Robertson at Blair Castle in particular was proud to be using an excellent embroidery frame especially crafted by her husband. [Jealousy is a deadly sin!] Panel # 35 can be seen appropriately braced and the whole illuminated for late night working perhaps. And everyone of her fellow embroiderers is a Robertson!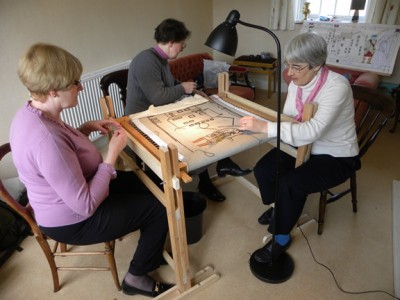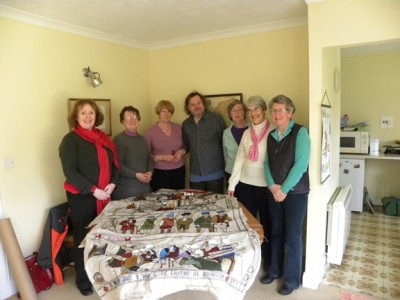 The Perth panel #36 pictured below is being stitched by Jacquie McNally.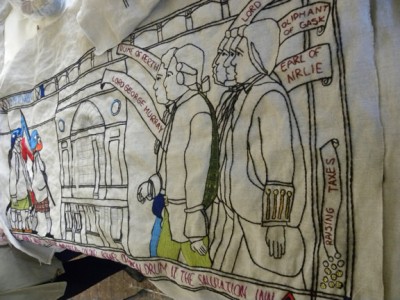 ________________________________________________________________

Ed. The historical notes that will accompany the Blair Castle and Perth panels in the book are given below:

#35. The Prince arrived at Blair Castle to be welcomed by Lady Charlotte of Lude, 80 year old cousin of Lord George Murray. Murray, whose home it was, was away at the time. Despite the clear need to reach Edinburgh as soon as possible, the Prince needed to gather supplies and funds for his campaign. Whilst he waited at Blair Castle he was introduced to the game of bowls and with his followers enjoyed a Ball organised by Lady Charlotte. He was joined by John Roy Stewart and Alexander Robertson of Straun whilst there, and from the local Atholl vassals the important Atholl Brigade was formed.

[Blair Castle today, rebuilt since the 18th century, has amongst its many treasures Jacobite items especially belonging to the Prince and Lord George Murray.]

..................................................

#36. Cameron of Lochiel had gone ahead and occupied Perth whilst the Prince rested at Blair Castle. On September 3rd the Prince followed, marching through the Pass of Killiecrankie to Dunkeld and arriving in triumphal procession in Perth on the evening of September 4th. He set up his headquarters in the Salutation Inn personally staying at Lord Stormontís home nearby. One most welcome visitor was Colonel Bower of Kincaldrum whom the Prince saluted outside the Inn [giving it its name. That public greeting was later to be used in evidence against the Colonel in his trial in York as a Jacobite.] During the week the Prince busied himself raising taxes and seeking additional troops. Oliphant of Gask joined him as did the Earl of Airlie. Viscount Strathallan came with some cavalry and James Drummond, Duke of Perth, also volunteered. Most significantly of all, Lord George Murray, a 50 year old man and younger brother of the Duke of Atholl with considerable military experience lately in support of King George II, now joined the Prince.
Murray was immediately appointed Lieutenant General and Deputy Commander of the Highland army. The Duke of Perth was given a similar rank.


Published Date: April 8th 2010