How Fair on the Redcoats?
It's true that the Battle Trust seeks to honour the Youthful Victor at Prestonpans ...

.... and it's widely acknowledged, not least by Marshal Wade and his fellow officers at the Inquiry into the Defeat at Prestonpans, that the Hanoverian government's troops, the redcoats, performed abysmally. Nevertheless, as the Highlanders charged they were faced by a terrifying red line of infantry poised and ready to fire their muskets. And on the redcoats right flank there were 12 artillery pieces and in their rear five hundred and more dragoons.

The redcoat line as it fires its first volley is depicted first below, with some detailing of the redcoats' lines beneath:

click on image to enlarge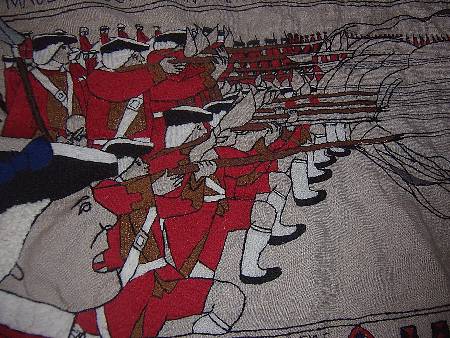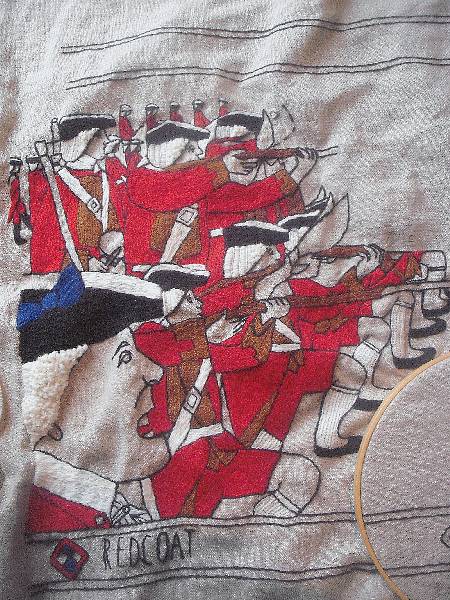 As history tells us, the redcoats are soon in flight ...

.... and whilst most of the foot soldiers were killed or soon captured the dragoons make good their escape - accompanied by the Brigadiers and Sir John Cope himself.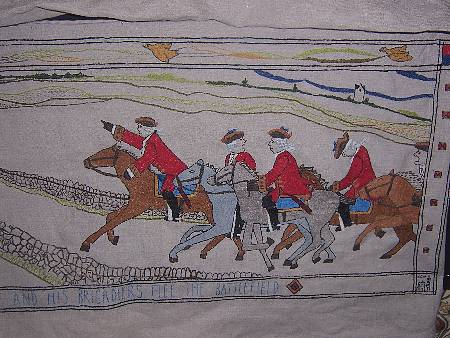 Finally Cope reaches Berwick-on-Tweed ...

.... to confirm his own defeat to Lord Ker. The famous 18th century cartoon created to ridicule that humiliating occasion has been used by artist Andrew Crummy for the entire Tapestry no more so than on that panel itself!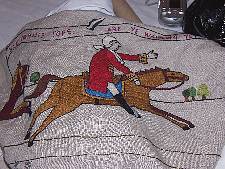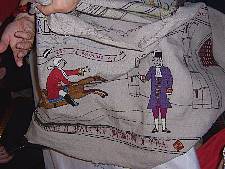 Published Date: March 30th 2010