How She'll Hang and More Insights ..
First Sighting of How She'll Hang

... is it right that a Tapestry, an embroidery, 103 metres long, is a she? Here's trusting so ...

The plan is to stitch the panels together in 5s i.e. into 5 metre sections. That'll be convenient for carrying and installation and for those doing the stitching together. Each section, and there will be 21, will have its own numbered waterproofed kit-bag.

The exhibition boards are 1 metre wide and 1 metre high and they stand a metre or so off the floor. The Prince is seen at the boards below - talking with Greg Dawson-Allen, the Battle Trust's Story Teller who is gathering 'new' tales from the Stitchers as they go!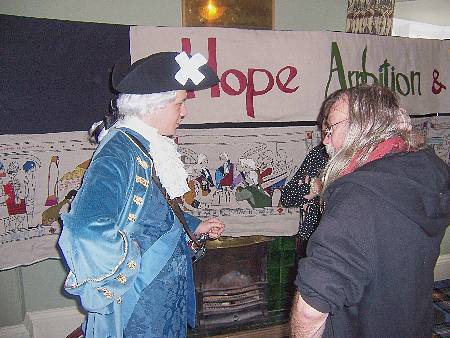 To give just an initial idea of how it will look, and of course the panels shown are unironed and not in sequence, Dorie Wilkie and Arran Johnston put together a 5 panel display at the MidWay Workshop on March 24th as seen below.

click to enlarge the images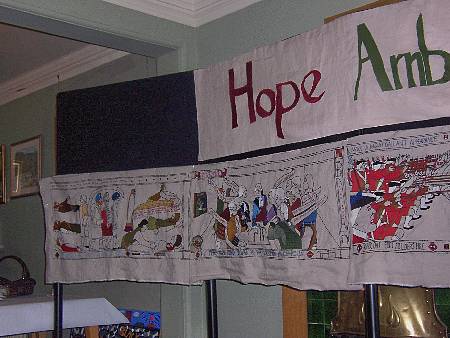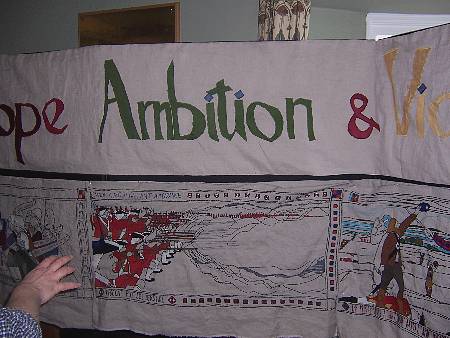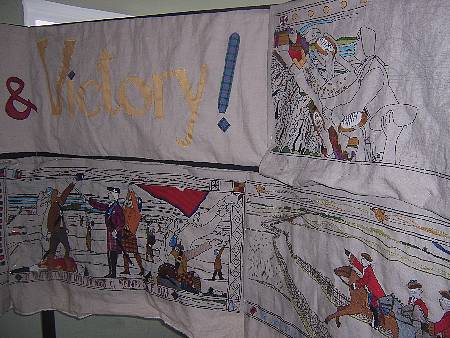 The head count amongst Stitchers was over 70 and everyone seemed to greatly enjoy their Gothenburg lunch - the antipasto, lasagne and tiramasu selected by the Prince to recall his last luncheon with his father, King James III, in Rome in January 1744. Left at the feast are Gillian Hart, Dorie Wilkie and Andrew Crummy ... with friends!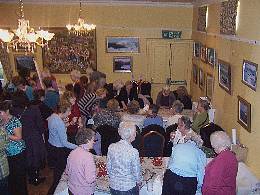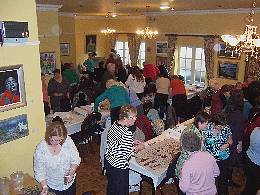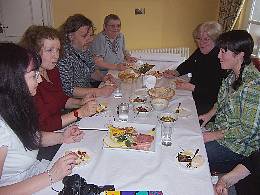 Published Date: March 29th 2010