Fowler's Celebrations: April 21st ... on course
'Famous since the '45' was their advertising catch phrase

There's little doubt that Fowler's honoured the Prince's Victory in 1745, and the town's historic Mercat Cross. These two local themes were always used in its advertising. And from April 21st @ 12 noon their memorable posters will be back on show again at The Prestoungrange Gothenburgh.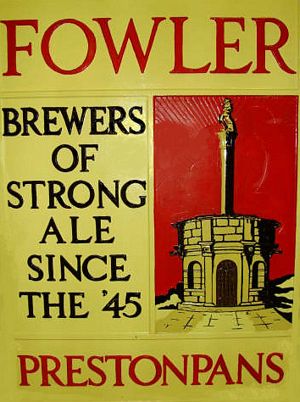 They'll be along Brewer's Alley, to the west side of The Goth. And that's where you'll find the restored Auld Fowler's Gate from their Auld HQ which Lidl demolished just a year ago ... in fact this is the anniversary of that sad sad day last April. Fortunately the Auld Gate was saved and is being painstakingly restored by Lynne Schroder, local Panner and accomplished sculptor in metal - pictured by Gillian Hart in both our local papers below just last week.

More than that, Glasgow Beer Archives have donated a Fowler's Ales illuminated sign to appear once again outside the Goth and a bronzed steel Mercat Cross. All is to be revealled!

Head Brewer Roddy Beveridge has a Wee Heavie coming along nicely too ...

Not only will Fowler's regular Porter and 80/- be on sale but Roddy Beveridge, Fowler's Head Brewer, is busy creating the Fowler's Wee Heavie of blessed memory. This will be the third time the Goth has brewed the Wee Heavie and it's always been greatly appreciated - in very modest quantities.

Celebrations April 21st from 12 noon/ 10.30 pm - Formal Gate Re-Opening @ 6pm.

click to enlarge press cuttings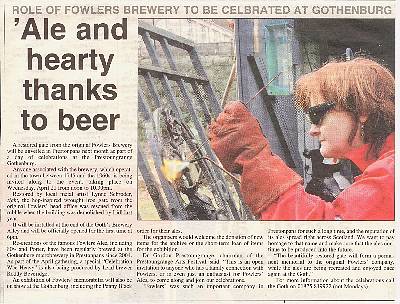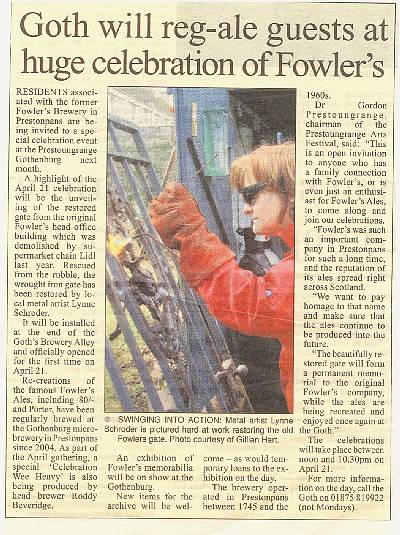 Remember that date: APRIL 21st from 12 NOON / 10.30 pm ... Gate's Formal Opening 6 pm




Published Date: March 27th 2010