Wallyford Remembers its Mining Heritage


Wallyford Remembers its Coal Place

Wallyford knows full well there's a major transformation of its community coming over the next decade. Plans were approved late in 2009 for the creation of a ringroad to the east of the village bringing new community and retailing facilities and housing. They have already seen the benefits of their railway connections and extensive car parking.

As such it is timely that they should be remembering their past, indeed their origins, in coal mining - and to carve it in stone.

click on all images above and below to enlarge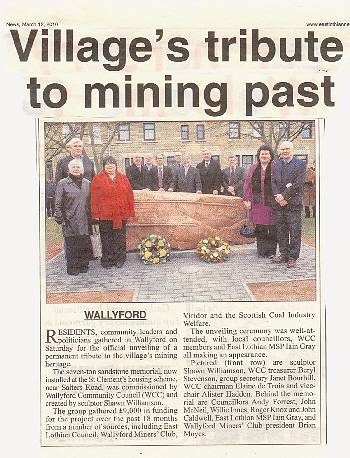 ... and what a pleasure to see their heritage recalled in poetry, something we've been proud to do for several years now in the Pans.





...... talking of the Pans then ...

It's well time we moved on from sadness at losing out to Newtongrange with the National Coal Mining Museum along at Prestongrange Colliery site. There's been a great deal of talk and insufficient action to create our own memorial and remembrance both for Prestongrange Pit and for Preston Links. The Community Council has made progress but Wallyford's achievement is a reminder that we can and should do better. It's not a competition, about who creates their memorial first hereabouts, but it's a wake up call!

Hey Johnnie Panner are you 'waukin yet?


Published Date: March 13th 2010