# 64 Greta Anderson's Copse ....
Checking out the Riggonhead Defile

It certainly was an 'Anderson' who convinced Lord George Murray and the Prince that the Riggonhead Defile would be a great way through the marshy areas at the foot of the Tranent ridge that separated that village from Prestonpans and Seton. So it's great to see Greta 'Anderson' taking up her needle to embroider Robert's panel # 64.

She's not finished yet, but she's pleased and so are all the rest of us with her row of trees thereabouts, a veritable copse no less. No tree trunks are visible which is of course not the case in the comparator also shown - from Esther Sharpley's panel # 22 depicting Lochiel's late arrival at Glenfinnan on August 19th. Whether we see trunks of course depends does it not on where you're standing as you look!

It's your countless requests from across the nation for insights as everyone else makes progress that gives you the images below. PLEASE SEND IN MORE JPEGS of your own work to Gillian Hart or Dorie Wilkie.

click to enlarge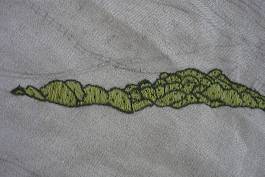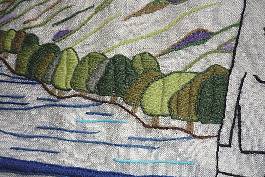 Meanwhile, some of the redcoats will be awaukin' as their drummer enjoins them to arise; there's a battle to fight soon if Robert Anderson's suggestion works!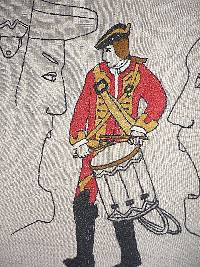 Published Date: March 15th 2010