Lord George Murray, the Prince and Council of War in Duddingston
Should the Prince and others always dress the same across the whole 103 metres?

This is a question that has been posed quite frequently, not least when stitchers come to embroider an image of the Prince. The 'official' answer is "no, not really".

The campaign to Victory at Prestonpans lasted just over eight weeks and during that time the Prince passed through many differing circumstances. On July 23rd he came ashore in Eriskay disguised as a Scots College priest from Paris, then he sailed up from Dalilea Pier to Glenfinnan and marched in pouring rains to Invergordon. He had a few days dalliance at Blair Castle learning bowls and even longer in Perth, but soon after he was striding across the Fords of Frew and spending the night in Gray's Mill before his triumphal entry to Edinburgh on September 19th. Then there were the balls and dinners at Holyrood after his Victory.

Each of these, and many other occasions depicted in the 103 panels, would have seen the Prince in different attire and indeed some tartan.

Andrew Crummy comments on his designs: "Throughout his eight week journey across Scotland to Edinburgh he acquired more expensive clothes. He would have ended up with many coats, wigs, ribbons, shoes, waistcoats. There's one very elaborate waistcoat in the Cameron Museum.

"There's no one strong image of his face or height that we can say is the truth. If you supported him he was very handsome and romantic. If you didn't you thought no such thing!"

Rest assured ... Viewers will delight to compare the differences

Not only do the above paragraphs set out the reality of the Prince's eight weeks on the march to Victory, but evidence from Reading's Bayeux Tapestry shows that visitors, especially school parties, take great delight in searching for and finding such diversity.

So the word is "stitch as you think the Prince might have been comfortably and appropriately attired on the occasion you depict," and history will give its verdict! So how might the Prince, standing [as yet unseen] to the right of the image of Lord George Murray, have dressed for his War Council Meeting at Duddingston [panel # 56] on September 20th 1745?

click to enlarge the embroidery work thus far ...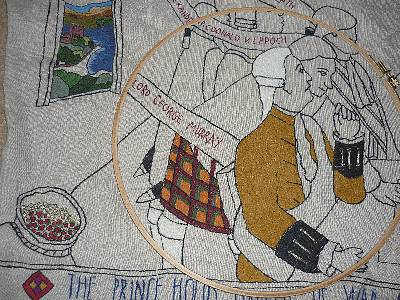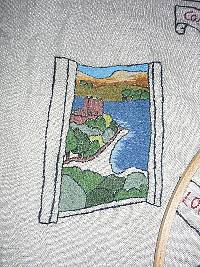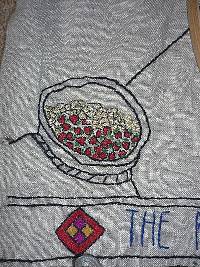 Published Date: March 3rd 2010