Dorie's Workshops are 'Hot' on Thursdays
35 Stitchers Mob Andrew Crummy's Studio .... searching for more wool and talking Quaker Stitch ...

Dorie Wilkie lost count this Thursday. "There must have been between 35-40 ladies, Andrew and his friend and myself in his studio today! The noise and fuss was terrific, all comparing sewing and 'demanding' more wool.

"'Tis true we are only sending out smallish supplies because our own suppliers are having difficulties keeping up with us. But everyone's got enough to be cracking on with, and it's amazing to see how much progress is being made. One panel, the Battle Map itself, is completed - the first it seems. Only 102 to go then ....

"If anyone does feel any panic about their panel be sure to tell us earlier rather than later. We're getting a 'help crew' together just in case! But can I say it again: Even if you only panic just a wee bit, get in touch and we'll help sort you out."

One thought coming around is the Quaker Stitch. It's evidently a 'new' and 'in' stitch! Embroidery's getting ever more trendy ... here goes:

This is a good stitch for cord like lines, guns, rigging, lettering or curved edges and is called Quaker Stitch. Try it and see if you want to use it.

click to enlarge the image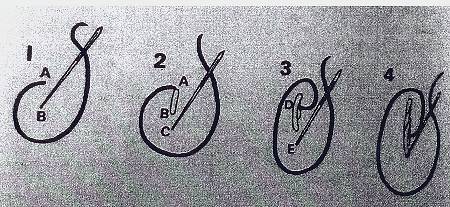 It gives a good even line and especially when the black wool is so uneven it evens up the finished appearance
Follow the above 1 starting with a back stitch moving forward to C.

Keep the wool to the left and insert needle at C half stitch length ahead, then back out at A. D is half the length of the stitch further on. Moving forward as if doing stem stitch then after E as if doing split stitch! No need to apply tension to the wool, it stands as a slight ridge.

Practice on the edge of your linen if you like –probably better to look at image rather than at my explanation!!
If working a curve work anti-clockwise keeping the thread to the outside of the curve.

Sewers who are left-handed reverse each move!

When using the couching or laid work, use a sharp needle – like Millwards No 6 embroidery, which has a reasonable eye for threading, and good point. Then you can keep your threads tightly in rows and for waves and hills why not couch in curves to create a feel of movement/ contours; or smaller areas top stitch close rows, larger slightly further apart.




Published Date: February 18th 2010