Calling all Stitchers: MARCH 24th MID-WAY CELEBRATION WORKSHOP
Yes, it's Wednesday March 24th from 10.30am - 2.30pm ... please come if you possibly can!

We do of course realise that not everyone can come along to the Pans for this Mid-Way Workshop but if you possibly can please do. There'll be lots of sharing, the Prince [aka Arran Johnston] will be there, and there'll be discussions and date fixing for the touring Exhibition/ Parade from July 23rd onwards till September.

CLICK ON INVITATION BELOW TO ENLARGE AND PRINT OUT
Please note we'd like to know numbers attending so either phone Gillian Hart/ The Gothenburg or email Gillian Hart or if that fails let Dorie Wilkie know!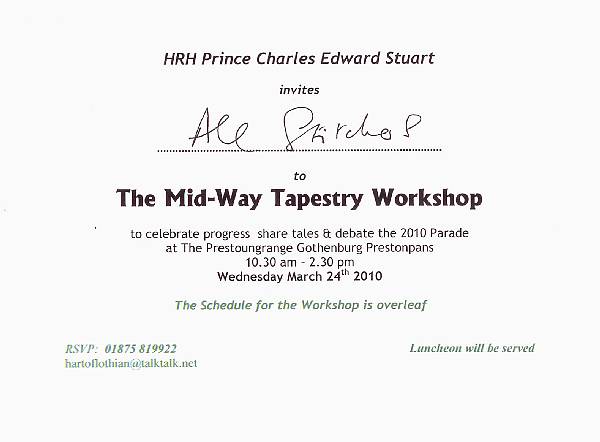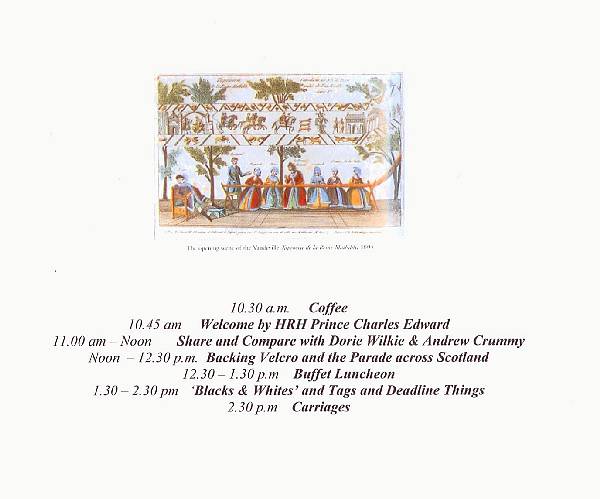 ....... and the illustration on page 2 above and below?

Those who've been following the website carefully will recall it's the programme cover from the 1804 vaudeville theatre show in Paris 'La Tapisserie de la Reine Mathilde' [aka The Bayeux Tapesty]. Napoleon brought the Bayeux Tapestry to Paris to strengthen his dynasty after he declared himself Emperor in 1804, and the Parisian theatre could not resist its vaudeville show. It's also the opening scene with the ladies hard at work stitching ... and the Bishop of Odo [aka Andrew Crummy] resting in his chair!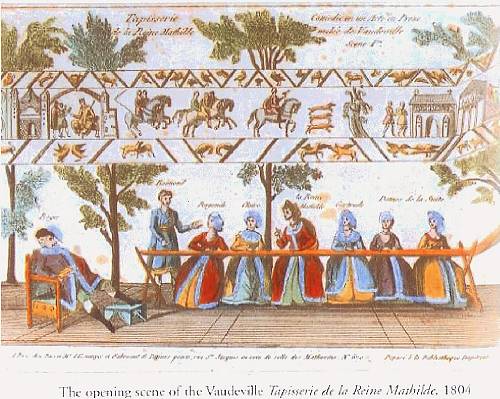 P.S. If there are any amongst us who write and perform vaudeville and would care to have a 'shot' at our own Prestonpans Tapestry, please be in touch - La Tapisserie du Beau Prince Charles, peut etre? Then we can take it to The Fringe in August 2011 .....


Published Date: February 18th 2010