Their Battle was 'Bigger' than Our Battle ... really ....
198 years before the Battle of Prestonpans, the Scots were heavily defeated at Pinkie in 1547 ...

Yes, we certainly were. It was the largest battle ever fought on Scottish soil. And by chance this very week the Battle Trust here in Prestonpans acquired a map on ebay in the USA that shows both Pinkie and our own Battle of Prestonpans side by side. It's quite recent, since it includes the North British Railway, but it shows just how close by they both took place. And of course Dunbar had two battles of which the most infamous was the second [II], Cromwell's defeat of a vastly superior Scots army in 1650.

However, neither Pinkie or Dunbar seem to have quite the Scottish romantic drama we are stewards of in Prestonpans [so long as you supported the Prince that is], since Bonnie Prince Charlie won his stunning victory here in some 9/ 15 minutes. Dunbar II and Pinkie were both humiliating defeats, and Dunbar I in 1296 a mere cavalry skirmish which was also lost to the English under Edward I.

click to enlarge the map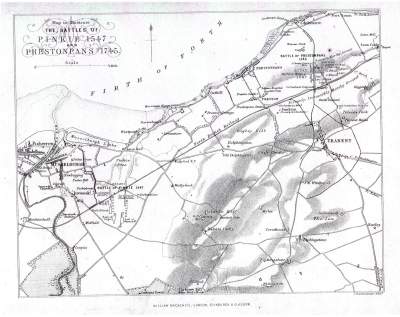 However, it has always been our intention at the Trust to recount the Battle of Prestonpans in the context of the other two major battles in 1547 and 1650 since they exemplified the importance of the eastern corridor into Scotland so often taken by the English. And so we do and shall, although we received a wee reprimand last week from the recently formed 'Pinkie Battle Group' as provocatively sub-headlined and carefully argued by Doc Coulson in both the East Lothian News and Courier. The sub-editor's headline suggests we in the Pans hold the 'lower hand' rather than the 'upper hand'.

The respectful response from the Trustees here in the Pans is straightforward enough. We have at once invited him to our next Biennial Scottish Battle Symposium in early June 2010 to advance his case [as we did in 2008 with the Old Musselburgh Club]; and of course we'll be very happy to share and contribute whatever we have learned thus far as his Battle Group takes off. And unbeknown to his Battle Group we already had in hand a couple of fraternal gestures - of which more later!

What an intriguing scenario seems to be opening up. Perhaps in 25 years time East Lothian's population by then at 200,000, whilst continuing to enjoy its golfing leadership, will have become recognised as 'Scotland's Riviera' stretching along the Forth from Fisherrow and Musselburgh to West Pans, Cuthill, Salt and Auld Preston, Cockenzie, Port Seton, Seton Sands, Longniddry, Aberlady, Gullane and onward to North Berwick, Direlton, Belhaven and Dunbar. We'll have an internationally acclaimed Battle Trail, intellectual inspiration from Queen Margaret University, arts leadership from the Brunton, heritage celebrated at Morrison's Haven, the acclaimed Seabird Centre, fine Glenkinchie whisky, Fowler's Ales of course, and East Fortune as our regional airport and museum..... And just maybe we'll have Concorde in the air again too with WW I and WW II aerial re-enactments over the Forth. Surely we'll find the 'Three' Harbours Festival grown to Six or Seven!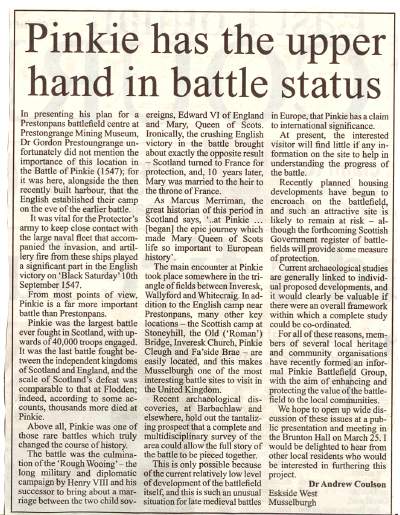 ...... BUT if Pinkie want a fight, bring 'em on ... and let 'em remember, we're winners in the Pans and they'll always be losers! Best to be friends as we're sure we will be.


Published Date: February 7th 2010