Fighting Talk at East Lothian Schools as they Learn some Jacobite History
Youngsters are learning their history heareabouts, and enjoying it all

The Battle Trust's programme of school visits across East Lothian to some 35 institutions, co-ordinated by Martine Robertson, is in full flow. It's proving to be a marvellous opportunity for the community's young people to learn quite a lot about Jacobite history and the importance of the battle Bonnie Prince Charlie won in Prestonpans in 1745. Each youngster takes home a copy of Stuart McHardy's new especially prepared slim book on the battle, which carries plenty of great illustrations from the re-enactments presented by the Trust in the Pans since 2006. [The Scottish Arts Council and HLF Awards for All are providing half the funding; the Trust the balance.]

click to enlarge press cuttings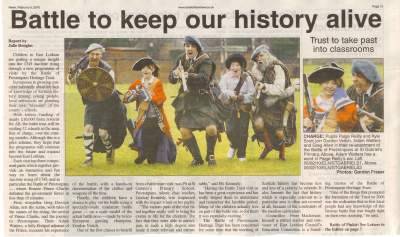 The press cuttings above and below tell the tale, and it is the Trust's next intention to hold a BattleGame competition for the various school teams in September this year. Gordon Veitch is busy signing them up. As can be seen below, the BattleGame is played on a landscaped scale model of Prestonpans in 1745. One of the great attractions for Hanoverian supporters is, of course, that the BattleGame's moves are determined anew each play on the roll of the dice. Johnny Cope can win!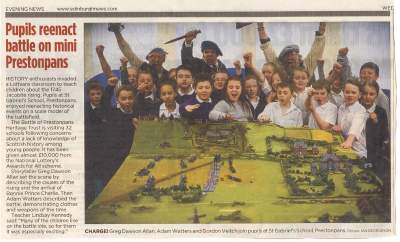 Any and all schools or clubs still looking for a visit please be in touch with the Trust by email @ waukin@battleofprestonpans1745.org
A modest Visit Fee may be payable but if the children so far are to be believed it's well worth it.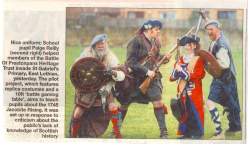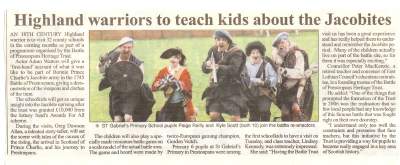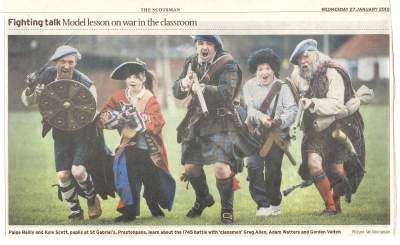 Published Date: February 4th 2010