On descending from Colonel Gardiner's daughter, Rose Margaret ...
The Prestonpans Tapestry finds a 'Gardiner' ....

A year or so ago, Andrew Crummy was speaking to the Saltire Society's Ladies Guild in Edinburgh of the artworks in Prestonpans, and about the then embryonic idea for a Tapestry telling the tale of Bonnie Prince Charlie - like Bayeux did of William the Conqueror. There in the audience, not an embroiderer herself as it happened but just next to one, sat Anne Anderson.

Anne's father, George Collins, was a research scientist. He was also a dedicated genealogist and determined to lay to rest a legend in his family that they had a 'direct' line of female/male descent from Colonel Gardiner's daughter Rose Margaret. Rose was born of the Colonel's wife, Lady Frances Erskine, in 1738. She was therefore just seven when he died in battle.

George Collins had also traced an excellent etching of the Colonel bidding his wife and eldest daughter farewell at Stirling Castle just shortly before he returned to Bankton House, the Battle of Prestonpans and his death on September 21st 1745. That etching is shown below and the original has been kindly donated to the Trust by Anne Anderson and her family - our most grateful thanks.

click to enlarge the etchings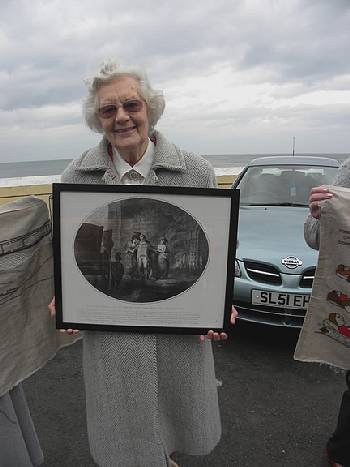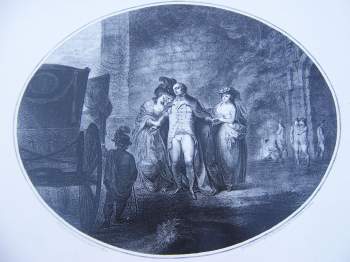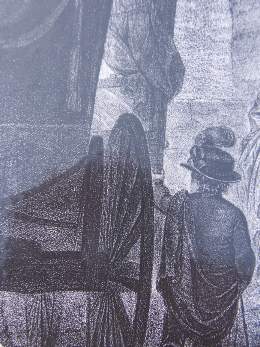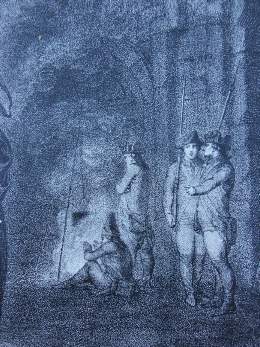 This etching of the Colonel, Lady Frances and daughter in Stirling in early September now joins the Trust's etching of the Gardiner Obelisk and the fragment of the thorntree under which the Colonel was mortally wounded on September 21st 1745, in the Trust's growing collection of significant artefacts.

Anne Anderson's line of descent

Colonel James Gardiner [b.1687/ d. 1745] married Lady Frances Erskine [b.1700/ d. 1774] in 1726.

Their daughter Rose Margaret Gardiner [b. 1738] married Joseph Harris [tutor to the family from Essex] at Wix, nr. Harwich in Essex, on 25th January 1762.

Their son Joseph Harris [b.1765] was a land surveyor and married Sarah [b. 1765]

Their daughter Sarah Harris [b. 1790] married George Pudney [farmer] in Wix in 1813.

Their daughter Hannah Pudney [b.1816] married David Burch [traveller] in 1841.

Their daughter Emily Burch [b. 1842] married Henry Mecklenburg [engineer] in 1868.

Their daughter Kate Mecklenburg [b. 1874] married George Collins [co-operative manager] on 31st December 1899.

Their son, George Collins, research scientist, [b. 24th November 1900] - Anne's father, married Elsie Colley in 1928.

Their daughter Anne Burch Collins [b. 20th August 1929] married James Anderson [forester] in 1963.

Their eldest son Tom Anderson [b. 1964], marine scientist, married Joan Dick in 1989.

Their eldest son Stuart Anderson [b. 1991] .....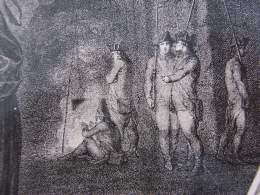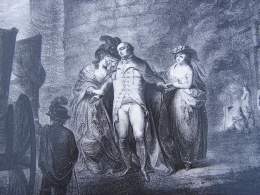 Published Date: February 1st 2010