Reading's Bayeux Tapestry - 1887
'England,' Elizabeth argued, 'should have a copy of its own' ... and William Morris agreed!

By 1870 one Thomas Wardle of Leek, in Staffordshire, had become the most accomplished silk and textile dyer in Britain. William Morris was a close collaborator and Wardle made many of Morris' most famous textiles in his factories. Wardle's wife, Elizabeth, was a talented embroiderer, and knowing Morris well, and working with him, had a great impact on her ambition. After giving birth to thirteen children by age 41 she resolved to establish her own 'School of Art Embroidery' in Leek. Its reputation for fine work grew and it was on this foundation that Elizabeth was able in 1885 to attempt her most enduring work of art.

Following a visit to South Kensington Museum where she saw a photographic facsimile of the Bayeux Tapestry, she became obsessed with the idea that 'England should have a copy of its own'. The copy would she believed be of great educational value and could be toured to tell the nation's history. It would also demonstrate the fine qualities of the Leek School! Her husband Thomas was charged with creating the wools to match the shades in the original as at 1885.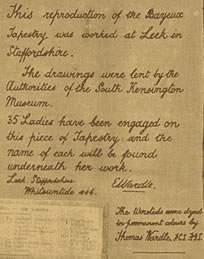 Using the photographs from the Museum a friend, Lizzie Allen, traced the images onto the linen. 37 embroiderers from around Leek gathered 'as shareholders' in a new 'Leek Society' to undertake the stitching and the exhibiting. Elizabeth and five other members of her family were involved and every embroiderer placed their name at the foot of the panels they created. The work was completed in 18 months and unveiled in Leek on 14th June 1886. It was accompanied by an 80pp Guide to the Bayeux Tapestry, 1887, by Mrs Thomas Wardle [later Lady Wardle when her husband Thomas was knighted].






It was an immediate success. Admission was set at 1/- per day, with a season ticket for 2/- and a family ticket for 4/-. 1200 people visited in the first four weeks. By September it began to tour the country - Tewkesbury, Newcastle on Tyne, Stoke on Trent, Worcester and Chester. Then they were was invited to New York and later Germany. They returned in time for Queen Victoria's Golden Jubillee in 1887 when it was exhibited in Bradford at Saltaire, the model working community of Sir Titus Salt.

Thereafter touring continued but the task of organising the schedules was proving onerous and prospective exhibitors were now informed it could be purchased if it could be given a permanent home.






In 1895 it was Reading under the leadership of its mayor, Alderman Arthur Hill, which finally accepted the challenge to contemplate purchase. There could be a home for it in that town's new art gallery from 1897. For the sum of £300, which was then shared equally amongst the Society's members, it was sold to Alderman Arthur Hill and gifted by him to the Borough - on the condition that if the town at any time change its mind, the work would revert to him.





Some 30 years later, Elizabeth's daughter Margaret, one of the original embroiderers in 1895/ 86 when aged 17, visited Reading and was greatly distressed at the poor manner of its exhibition and its apparent need for cleaning. Now married as a formidable Lady Gaunt, she quickly rallied support and saw to its restoration - whereupon its touring life began all over again going to provincial museums from 1928 and throughout the thirties with a visit to South Africa in 1931. Much of its touring success it must be said certainly lay in the disinclination of Bayeaux ever to allow their original out of France!

Wardle's replica was off touring yet again in the 1960s significantly going to Hastings itself as well as to Leek. But touring came to an end in 1968 after which Reading was only able to display just a few panels at a time.

1986 was however the 900th Anniversary of William the Conqueror's Domesday Book as well as the centenary of Wardle's fine Leek Society artwork. Reading woke up to the replica's significant potential and organised a national tour. More than half a million visitors saw it. That success greatly emboldened Reading and in 1993 a purpose built gallery at 'The Museum of Reading' enabled any and everyone one to see the complete work once again. There it still remains on view .... and web access has of course been added too .... LINK DIRECTLY HERE

There has been one other recent incident to report. Reading necessarily put up a stout resistance when, as was perhaps to be expected, a millennial call for its cultural restitution to 'its rightful home in Leek' was advanced!

N.B. The replica Bayeux Tapestry can see seen free of charge at 'The Museum of Reading' during their normal opening hours: 11am - 4pm except Mondays and Sundays/ Christmas - New Year and Easter Sunday - but the Museum is open on all other Bank Holiday Mondays.
__________________________________________________________

The Battle of Prestonpans 1745 Heritage Trust is every bit as ambitious as the Elizabeth Wardle, the Leek Society and Alderman Arthur Hill were in wishing to make our own 'Prestonpans Tapestry' widely available for educational purposes. Their success across the past century, and the original Bayeux Tapestry across an entire millenium, are an inspiration to us all in the Trust.

100+ stitchers across Scotland are currently at work on their individual panels for the Prestonpans Tapestry heading towards our own June deadline, in 2010, after which our tapestry will have its inaugural display at the Prince's Stand on Eriskay where Bonnie Prince Charlie landed on July 23rd 1745.


Published Date: January 8th 2010