Bonnie Prince Henry indeed!
Scotland's National Portrait Gallery [reluctantly] accepts ....

In a very significant step, that had admittedly been anticipated, Scotland's National Portrait Gallery has now publicly accepted that its 'iconic' La Tour portrait [costing £22,000 in 1994] of Bonnie Prince Charlie is more likely to be of his younger brother Henry!

Two years ago London art dealer Bendor Grosvenor cleaned a portrait he had received and concluded it was a 'copy' of the La Tour in question. That would not have been a problem except that the painting Grosvenor had cleaned was called Portrait of a Cardinal. Accordingly Grosvenor concluded if the copy was called Cardinal the original must have been the Cardinal. The alternative explanation that the copy itself had been misnamed has so far as one can tell never been considered.

click to enlarge press cuttings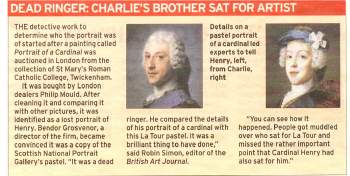 Why anyone would wish to label a portrait in armour as 'of a Cardinal' is beyond us. Surely the sitter would wear a Cardinal's hat! Henry's only militarism seems to have been assembling an army in France in late 1745. And he certainly was not made Cardinal until 1747.

What Next then ...?

Be all that as it may, Grosvenor's version of affairs has been accepted by the National Portrait Gallery in Scotland. Its adviser, Dr Corp of the University of Toulouse, has changed his mind and now sides with Grosvenor - writing in the British Art Journal. So the search is on in earnest for an 'alternative' portrait to be shown as appropriate at the time of his 1745 campaign. There are many interested parties to the search of course not least our own Trust in Prestonpans.

click to enlarge this engraving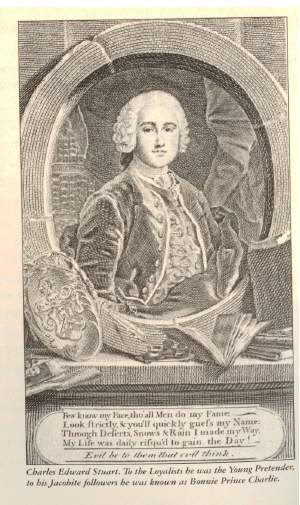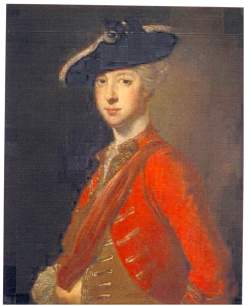 The engraving reproduced above anticipated our challenge long ago:

Few know my Face, tho' all Men do my Fame:
Look strictly, & you'll quickly guess my Name:
Through Deserts, Snows & Rain I made my Way,
My Life was daily Risqu'd to gain the day!

For the duration until another lost copy of the painting is cleaned labelled Bonnie Prince Charlie, we have it in mind to adopt the portrait from about 1745 held in the collection of Derby Library [shown next to the engraving above] attributed [note we state 'attributed'] to Alan Ramsay [1713-1784]. It has already appeared as the frontispiece to the Trust's Prestonpans literary anthology Rebellious Scots to Crush compiled by Arran Johnson [aka today's Bonnie Prince Charlie hereabouts].

Do any readers here have alternative suggestions please?

What of this one below right in HM The Queen's collection by Louis-Gabriel Blanchet in 1739 ...? Or at bottom by Antonio David in 1740 at the Victoria & Albert?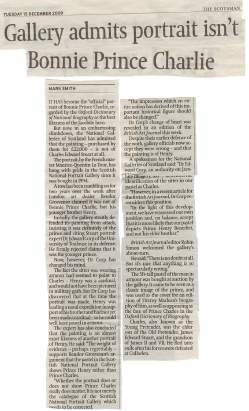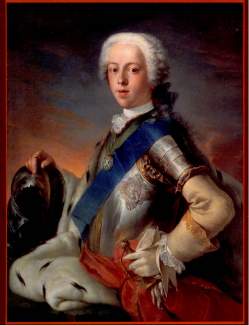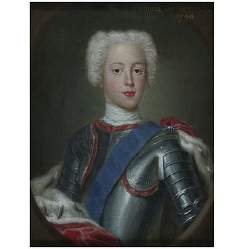 Published Date: January 6th 2010