Derby remembers and also gladly welcomes Count Pininski
Derby 2009 Does its Best Again!

Derby's Charles Edward Stuart Society once again celebrated the Prince's farthest reach across England at Swarkestone Bridge on the Trent. This was where the Highlander army stood in early December 1745 as their Chiefs' heated War Council in the Library at Exeter House ended with the fateful decision to retreat to Scotland for the winter. It was here they first posed the question: What if ...?

It had been the most brilliantly executed campaign since leaving Edinburgh barely 5 weeks before, coming the whole distance without need to do further battle with the Elector of Hanover's forces after the stunning Victory at Prestonpans. By securing Swarkestone Bridge the final 120 miles to London was open across the last great natural obstacle - the River Trent.

The annual re-enactment at the bridge continues its own factitious reality some 15 years since it was first conceived: the Highlanders are surprised by a redcoat force and withdraw, returning soon after to the swirl of pipes [the Drambuies again this year] to take all the redcoats prisoner - the Prince graciously accepts their surrender as shown below. Finally wreaths are laid at the cairn, one shown from the Prestonpans Heritage Trust by its Chairman, Gordon Baron of Prestoungrange [also shown], in gratitude for all the support Derby has given to the present campaign in Prestonpans for its Living History Centre.

click to enlarge all photographs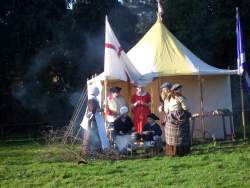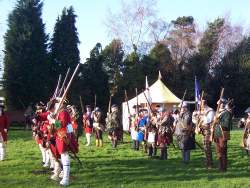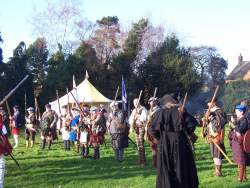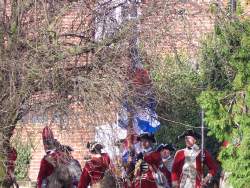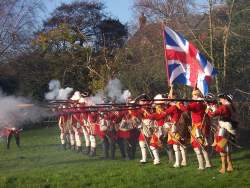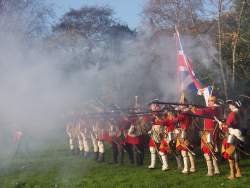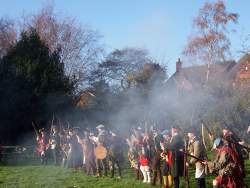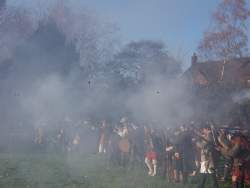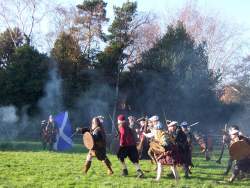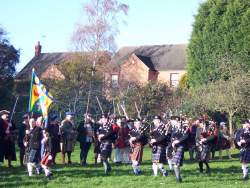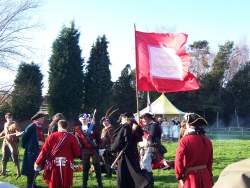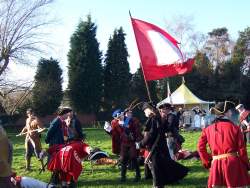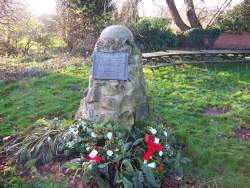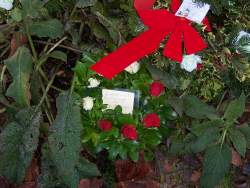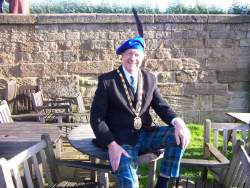 The skirmishing was, as always, a grand entertainment for the gongoozlers and a fine prelude to the traditional Sunday encounter on Cathedral Square in Derby itself, and the service in the Cathedral - this final event is in fact 100% authentic by the way.

Count Peter Pininski also joined the Charles Edward Stuart Society in Derby this year

The 2009 re-enactments had another key highlight - the attendance of, and the Civic Reception from the Mayor of Derby for, Count Peter Pininski.

Count Peter Pininski, who lives in Warsaw, is the senior direct descendant of The Prince, from his often tempestuous love affair with Clementina Walkinshaw - which began during the retreat from Derby when they met in Glasgow and again at her maternal grandfather's house in Bannockburn in December 1745. Count Peter Pininski's mother was, incidentally, a direct descendant of Cameron of Lochiel.

The Count's pedigree can be well understood from the report published in the pages of Burke's Peerage LINKED HERE

The Count is shown below at Swarkestone Bridge shaking hands with Arran Johnston, today's leading aka for the Prince. Arran is himself from Derby although now living in Edinburgh where he spends much well appreciated time with the Prestonpans 1745 Battle Trust. In the first picture, today's Royal Stuart Tartan enfolds both their arms.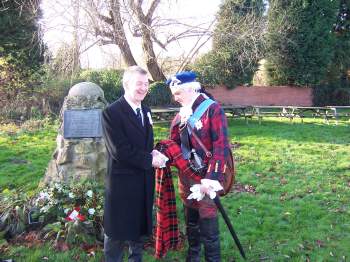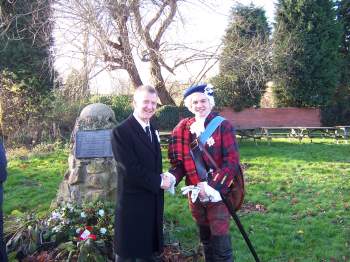 __________________________________________________________

... and there's a footnote from the Editor!

The final picture shows Bonnie Prince Charlie with his new targe making its first public appearance as he accepts the redcoat officers' surrender at Swarkestone Bridge.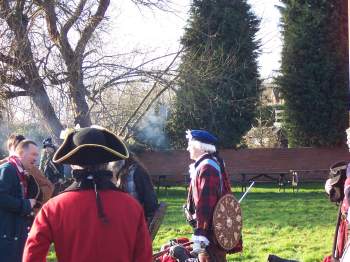 Published Date: December 6th 2009