The 'Other' Tapestry and the Battle of Hastings
Wondering how? .... Ideas from Battle

It was only a matter of time perhaps before the 'Bonnie Prince Charlie' Prestonpans Tapestry project looked at perhaps the greatest memorial addressing 'usurpers and rightful accession' to the English throne of William the Conqueror in 1066 - Battle Abbey. William had been usurped in 1066 by Harold despite Edward the Confessor, who grew up in Normandy, having nominated William as his successor.

The Abbey was required to be built as penance by William at the command of the Pope, and it survived and thrived until Henry VIII took his own path away from Rome in 1537. Today the site boasts the Abbey School and a comprehensive interpretation of the battlefield itself, on which the Abbey was constructed. The spot where King Harold the Usurper fell is at the heart of the Abbey ruins.

View the English Heritage 940th Anniversary Re-enactment HERE

Most extraordinarily, English Heritage which manages the battlefield, has chosen to use the Bayeux Tapestry as the basis for its video presentation to visitors. It also offers a fine stock of Bayeux memorabilia in its bookshop, not least Carola Hicks excellent study of the fate of the tapestry [known earlier as La Tapisserie de la Reine Mathilde - William's wife] ever since it was embroidered in the 11th century .... possibly in Canterbury some would argue, but most likely in France at the behest of Bishop Odo William's brother-in-law to decorate his new cathedral in Bayeux on its consecration.

Carola Hicks' fascinating study [The Bayeux Tapestry, 2006, Chatto & Windus, ISBN 0 7011 7463 3] explores inter alia how Napoleon I sought to leverage his notions of Imperial grandeur by bringing the tapestry to the Louvre in Paris for exhibition at the start of the 19th century. 20 performances of vaudeville ensued - unsurprisingly at the Vaudeville Theatre itself! Since at the time Napoleon had plans to invade England just as William had, the vaudeville was sent on tour to Boulogne for the officers there. Barre and his colleagues were granted a Fr 4,000 pension each. The Opening scene is shown below:

click to enlarge the painting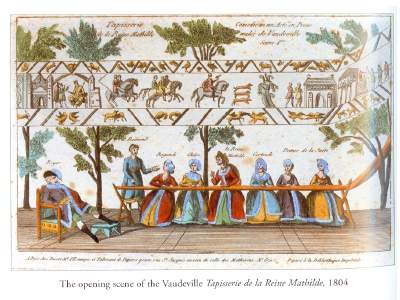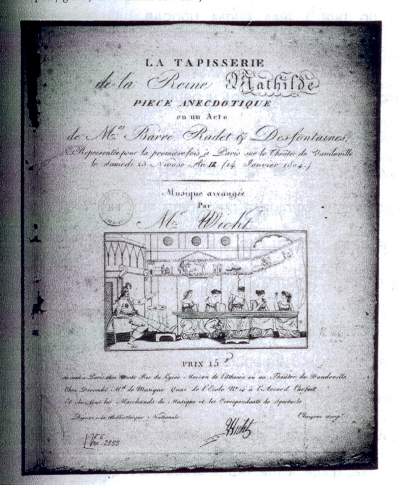 Much later, mid 20th century, Hicks tells of Heinrich Himmler's Nazi ambition to spirit the tapestry away to Germany after the Allies landed in Normandy. They had already moved it as far as Paris but were untimately frustrated by Bletchley Park's enigma code crackers who alerted the curators to move it away before the SS arrived!

At the time of the Liberation of France in 1944 the irony of the fact that the Allies were returning to reconquer Normandy from the islands they had conquered in 1066 was not lost. The Bayeux Tapestry left the town for the second time to be exhibited in Paris. It has never left France. And subsequently a tapestry of those Normandy Landings was created using its code name - Overlord - LINKED HERE.



__________________________________________________________
What a history, and so brilliantly recounted by Dr. Carola Hicks! Our own modest work of art can only hope to 'begin to aspire' to such a future from July 2010, but surely it shall. Who might the villains and the heroes of the piece be one wonders in the centuries ahead?

What Battle's presentation has shown is just how powerful a fine tapestry can be at telling its tale. It augurs well for the Trust core objective of raising significantly both national and international awareness of the meaning of Victory for the Prince at Prestonpans in 1745.


Published Date: December 8th 2009