Dunblane's Tapestry Panelisation ... by Community Command
Errors of Omission Made Good ...

The Prestonpans Tapestry Team always expected to find that it had overlooked significant moments as the Prince travelled from Glenfinnan to his Victory at Prestonpans. And so it is proving ...

First Fassfern and the origins of the white rose and cockade there were overlooked; lately the Stitchers of Dunblane have reminded the Team that the Prince enjoyed an overnight stay with William Drummond of Balhaldie, a MacGregor and acknowledged Jacobite sympathiser with relatives in Paris serving on occasions as a spy. The Prince dined and lodged with him at Balhaldie House on September 11th 1745. The maid, invited to his bedroom to clean his boots, failed to kiss his extended hand instead actually kissing his boots!

Cumberland also visited Balhaldie House when he was pursuing the Prince in retreat in 1746. The same spirited maid unsuccessfully attempted to injure and delay him by throwing a pail of boiling water over him - although that alas will not be recounted in the tapestry. She fled through the culverted burn - pictured below behind the grill.

click to enlarge all the images below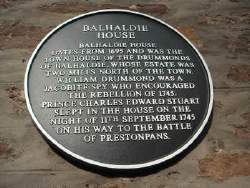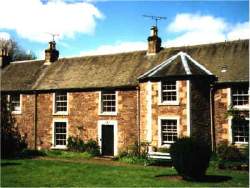 The further photographs below were taken during a field visit on November 28th 2009 and added here. Today's owner of Balhaldie House, Magnus & June Peterson, were kind enough to provide a conducted tour. The second image of the house below shows the extent in 1745 and a datestone 1743. The red harling was placed from 1746 when all Jacobites were required to paint their houses thus and amazingly this fragment remains to this day.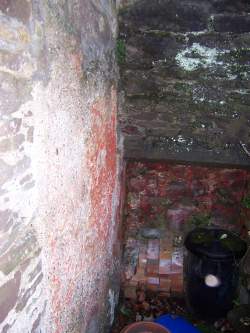 The Peterson's sitting room today is where they believe the Prince's War Council met to discuss their imminent advance on Edinburgh and it too, like Fassfern, has a splendid white rose growing beneath the bedroom the Prince lodged in and where the maid kissed his boot.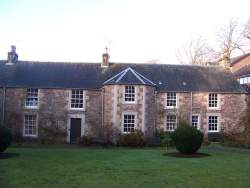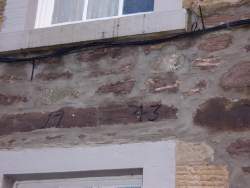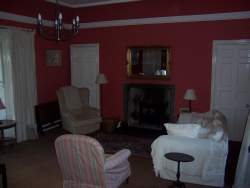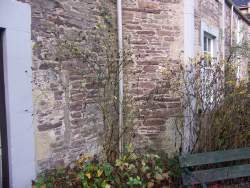 More than just one panel will be stitched in Dunblane ...

Dunblane's stitchers have volunteered to tackle several panels and whilst they await Andrew Crummy's design for 'sign off' of the Balhaldie House panel, they have commenced already on the Prince's Offer of £30,000 for the Elector of Hanover.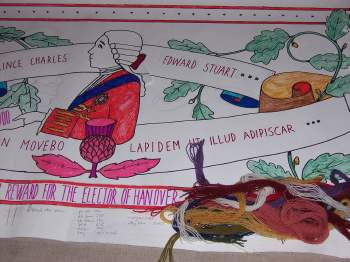 Published Date: November 12th 2009