The Trust's Borrodale Residence: September 12th/ 17th
Borrodale House Proves to be the Perfect Venue

Athough today's Borrodale House was rebuilt after the earlier house's destruction following Culloden, the peace and tranquility the Prince must have had there in late July/ early August is immediately apparent. His recognised landing point is but a few miles away and he did of course receive a warm welcome at the home of Angus MacDonald.

click all pictures to enlarge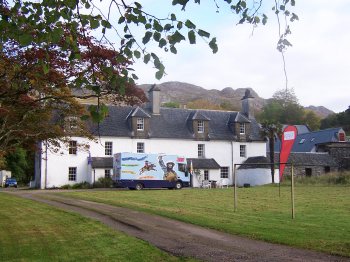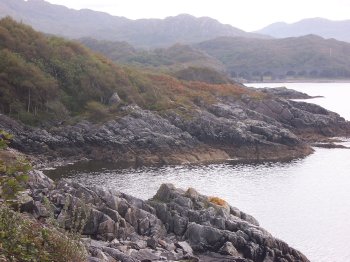 His major activity by all accounts was to write letters to as many Highland Chiefs as he might to persuade them to come to Glenfinnan on August 19th when he proposed to raise his standard there.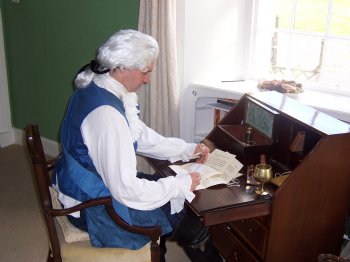 Perhaps the Prince's most important guest was Cameron of Lochiel who came determined to advise the Prince not to proceed but after just 15 minutes so impressed was he with the young man that he agreed to bring 800 fighting clansmen to Glenfinnan - as he surely did. Or was he shamed the Prince offered - 'to stay at home and learn of the Prince's fate from the newspapers'?

Whilst in residence, the Trustees accompanied by Stephen Lord, author of the invaluable book Walking with Charlie, and Andrew Crummy, the artist resposnsible for the Prestonpans tapestry's 78+ panels, had the opportunity to explore both the bothy and the cave where the Prince was rumoured to have stayed during his flight after the house had been destroyed. Arran Johnston and Fiona Campbell role played throughout as The Prince and Jenny Cameron. The Poet Laureate, John Lindsay, and Trust Story Teller, Greg Dawson-Allen, came back from the cave with mussels and a tale or two. A fiddler from Skye over busking for the day also joined one evening's celebrations as dinner was created by the Trustees by rota - ranging from Concorde cuisine to the finest haggis you could ask for.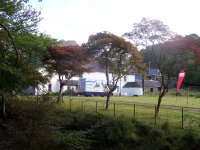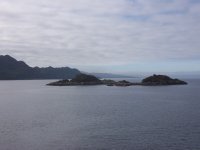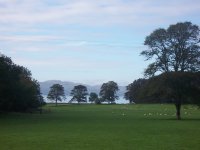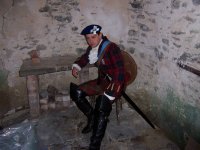 N.B. Of course the sole end and purpose of the Trustees' Residence at Borrodale was to amend and then 'sign off' the local tapestry panels and seek as many embroiderers as may be locally to the events described. News of the most considerable learning and the ultimate successes achieved at Arisaig, Kinlochmoidart, Glenfinnan, and Fassfern are given in further NewsNet postings.


Published Date: September 25th 2009