Fassfern's White Rose and the White Cockade
Why a White Rose and Cockade?

History recounts that Prince Charles Edward stayed overnight en route from Glenfinnan to Invergarry Castle on August 23rd 1745 at Fassfern House on the shore of Loch Eil, then home to John Cameron, younger brother of Lochiel. His 1500 followers and his Clan Ranald bodyguard stayed close by.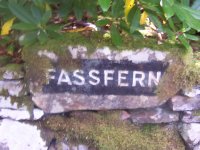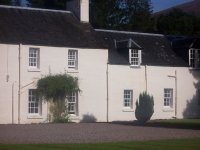 John had deliberately absented himself to avoid appearing to support the Prince although this does not seem to have given any cause for concern. The Prince slept well on a bed to be found today at Fort William Museum. His window overlooked the southerly lawns to the Loch and he could scarcely help noticing a beautiful white rose flowering just below in profusion. [Ed. Many thanks to staff member Maria who provided the photograph.]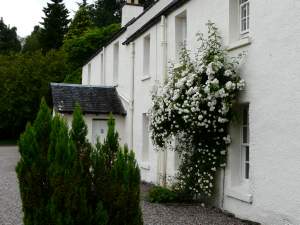 He picked a bloom from the bush and attached it to his blue bonnet as he departed. It's not known how many of his followers also took a bloom, but the white rose immediately became the symbol of Jacobite support and continues thus to this day.

The rose variety in question still flowers on the south facing wall at Fassfern [pictured above] and a cutting can be found at the Clan Cameron Museum close by at Achnacarry.

The National Museums of Scotland also hold the White Cockade in linen of Robert Strange which he wore in 1745 to demonstrate his loyalty to the Stuarts - shown below: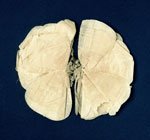 Published Date: September 26th 2009