Burriss Brings Dancing, Photography to Art and Line Drawing for 2009/ 2010
2009/ 2010 Winners Set New Challenges

Since its inception in 2003, the Burriss Bursaries and the associated Sir John Ross and Lord Novar awards, each worth £2000, have encouraged painting, sculpture, theatre, song and music. Over the coming year they will embrace dance, line drawing and photography.

The awards for 2009/ 2010 were made against the backdrop of a fine 'exhibition' evening at The Goth with the three winners from 2008/ 2009 - Coreen Scott the singer, Kelly Ross the actor and Carole Melrose the musician. Their formal reports will be published here on the web shortly but their tenure saw the Edinburgh Philomusica playing David Dorward's Auldhammer Suite at Prestongrange Church, myriad musical and theatrical interpretations of the murals trail not least the Summerlee launch with Davy Steele's widow Patsy Seddon on the harp, and regular jazz and open mike nights at the Goth.

click to enlarge images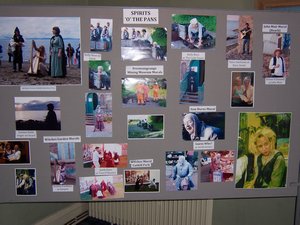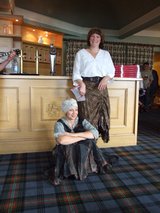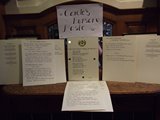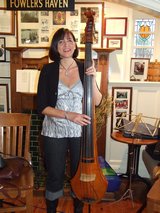 Tom Ewing, Hamish Moore and Kerry Henderson are the 2009/ 2010 Winners

Tom Ewing took the Burriss Bursary to create 45 drawings in mixed media of just 45 lines each of the town, the people and the landscapes of the Pans - for eventual publication.

The Sir John Ross Fellowship went to Hamish Moore to reintroduce traditional Scottish hard shoe percussion step dancing and quadrilles which were once universally popular. Workshops will be offered for primary schools and adults and community dances provided at the Town Hall once a month associated with seafood suppers. Since Hamish has the strongest of links with our twin town Barga in Tuscany, it is proposed that his Fellowship will also influence the design of the Barga II Visit in May 2010 planned by Gillian Hart for the Arts Festival.

The Lord Novar Scholarship went to Panner Kerry Henderson who is Designer for Scottish Field but constantly seeking to develop her own skills as an artist-from-photography. This is the first time the significant art of photography has been embraced by the awards and it is hoped Kerry's distinctive work can also lead to a wider involvement with photography per se across the Pans.

The three winners are pictured below with Mr Belfield, the town's last potter, crafted by Lynne Schroder. Left to right Hamish Moore, Lynne Schroder, Mr Belfield, Tom Ewing and Kerry Henderson.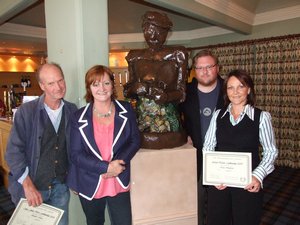 Next Steps for the Winners

The traditional pattern for each year's winners is to form a Burriss' Team working with Andrew Crummy as Convenor of the Arts Festival. The whole year's work builds towards Gothenburg Day 2010, July 23rd, when the winners are required to present an 'exhibition' of their art works howsoever.

2009/ 2010 saw more applicants than ever

Whilst it's no consolation to those not selected, the Awards Group led by Dr. Julian Wills, Baron of Dolphinstoun, were delighted with, and greatly appreciative of, all eight excellent applications this year - the highest ever. Those who were not successful included a Herring Girls Pageant, a majestic 'Soviet' style Panner artwork, textile art, further photogaphy and an artist's perspective of the Pans from the top of the #26 bus at each of the town's 10 seashore stops.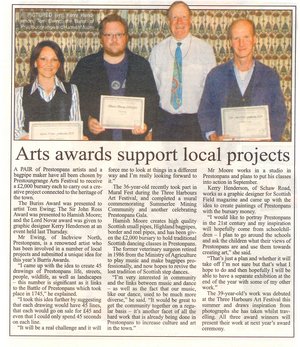 Published Date: August 1st 2009