Sign Off in Eriskay: The Prestonpans Tapestry Went 'Home' to a Great Welcome!
Eriskay 'Sign Off' for the Prestonpans Tapestry Yields Rich Fruits!

It sounded a long way to take the BattleBus to Eriskay from the Pans, but after all the Prince had walked the distance in 1745. And there were only two major hiccups on the way there. The BattleBus needed strategically placed stays on its chassis in case of rough weather from Uig to Lochmaddy and back. And when the BattleBus landed in a ditch of a Sunday there was a six hour wait whilst heavy gear came out to Portree on Skye from Inverness to restore its dignity!

click to enlarge all images throughout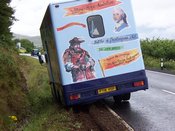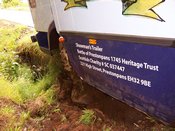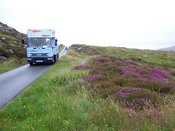 First port of call en route had been an initial reconnaissance in Perth at the Salutation Inn [of which more later], followed on North Uist with the delivery of a packet of lately panned Prestonpans Salt to Fergus, Earl of Granville, at his Hebridean Smokehouse - honouring a long ago promise!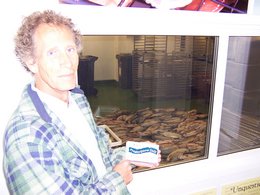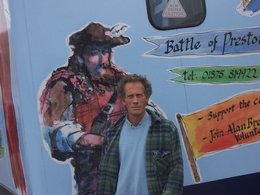 Then it was heading for the causeways across to Benbecula and South Uist, and finally the last leg of the journey across to Eriskay Village Hall. In fact, being honest, there was a previous stop off to heighten the excitement at The Politician. That's the local hostelry whose name commemorates the sinking of the eponymous ship with 24,000 cases of whisky on board, off Eriskay in 1941 which inspired Compton MacKenzie's famous book Whisky Galore. 'Poly' whisky was on display but alas is not for drinking today although the cadences of the Eriskay Love Lilt were readily heard.

Andrew Crummy, as artist in charge of the Tapestry designs, had created his first draft of the first Eriskay panel for the Prince's Landing on July 23rd with the Seven Men of Moidart. The famous "Go Home" welcome panel from Alexander MacDonald of Boisdale including the Prince's quick witted "I am Come Home" response has not yet been finalised. The Landing Panel was held aloft and observations invited from the gathering of island dwellers.

They flowed ... as did the small pipe music of young Seamus Campbell - his pipes made by none other than Hamish More now of our Belfield Pottery Workshops who had also tutored him as well.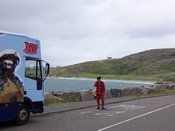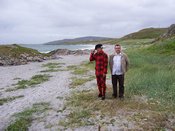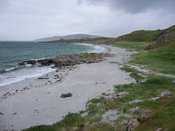 Where's the Prince's Flower, and the Eriskay pony ....

It seems to be a well accepted fact that the Prince inadvertently emptied at least some of the contents of one of the pockets of his disguise as a Minister onto the shore as he landed. And from that pocket came the seeds of what is to this day known locally as Prince Charlie's Rose - a pink sea-bindweed flower with a white stripe whose botanical name is calystegia soldanella. That beach today is known as The Prince's cockleshell strand.

He might well have seen or even rode on an Eriskay pony too. They may be rare nowadays but they were certainly out and about in 1745. And then there was the issue of the Black House where the Prince lodged for two nights although local word has it he spent most of the nights outside because he found the smoke so oppressive.

More difficult to discern was where precisely on the seascape La Doutelle might have anchored and had Andrew got the island of Barra and the lesser outcrops to the south of Eriskay in the right juxtaposition to the Prince's Beach? And of course how many masts did La Doutelle have and what flag did she fly as a French privateer?

Finally, how could Erskay welcome Seven Men of Moidart when they had not yet reached that spot - and didn't one stay aboard because of sickness anyway until the subsequent arrival at Moidart?

In all other respects except perhaps the Prince's uniform and the kilts, Andrew seemed to be 100% correct. Whilst it was known that he left St Nazaire disguised as a student from the Scots College in Paris, was he still dressed in that manner at Eriskay or had he changed into a Minister's robes - as many reports suggest. If so, how would they look?

Well, Andrew had asked for feedback and comments, so that's exactly what he got.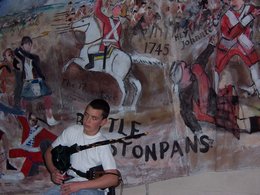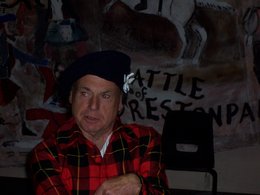 Hosting this Visit were Colonel-in-Chief Martin Margulies and Archie MacKay of Am Paiper

The visit arrangments had been most kindly made for the Trust by the Outer Hebrides' own local newspaper editor, Archie MacKay of Am Paipear. The Village Hall was a magnificent facility, with wind powered energy ensuring a profit each year from sales back to Scottish Power. The original canvas backdrop painted for the Battle of Pots 'n Pans had also been stowed on the bus and added appropriate colour for the occasion.

Gracious accommodation and end-to-end hospitality and much more was at Colonel Martin Margulies' own cottage on South Uist, accompanied by his wife Beth. One fascinating element of 'much more' was a meeting with Jean-Didier Hache and his family, over on their regular annual vacation from Paris. Jan-Didier is most recently renowned for his book The French MacDonald. It's an extraordinary work of commentary on the translated diaries of a Scottish emigre who became a Marshal of France with Napoleon whose father had, with Flora MacDonald, masterminded the Prince's escape in 1746 back to France - his father had indeed fled there with the Prince. The diaries tell of Marshal MacDonald's nostalgic journey to the Outer Hebrides in 1825 sponsored by the British Government.

If this is how 'Signing Off' is likely to proceed across the nation, it's going to be an education in itself ... which was exactly the point in the first place

As can be seen from the reportage above, this first exercise in 'signing off' was an immense success with myriad spin offs too. Andrew Crummy's brief for the Eriskay Panels was immensely enriched, and he is now in a position to finalise these two panels to local community acclaim. More than that, of course, the occasion brought forth the very community volunteers the Trustees are seeking to undertake the emroidery of the two panels right there on Eriskay with support from South Uist too. Lena MacLellan and Archie MacKay are the volunteer co-ordinators. Our most sincere thanks all round.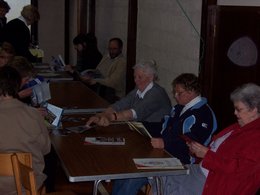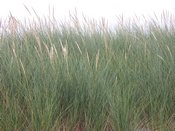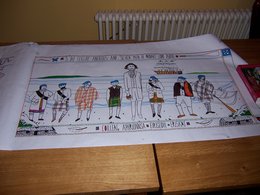 Published Date: July 30th 2009