La Doutelle & L' Elisabeth meet HMS Lion: July 9th 1745
La Doutelle [or Du Teillay] sails from St Nazaire to La Belleisle and thence to Eriskay and Loch nan Uamh with the Prince on board ...

One of the most fascinating aspects of Andrew Crummy's creation of the panels for the Prestonpans Tapestry is the research that goes into the fine details to be depicted. Nowhere is this more intriguing than in the Prince's voyage from France to Scotland on La Doutelle.

France's King Louis XV was well aware of the Prince's intentions and ensured that Lord Clare, an Irish-French Officer, secured two ships for the Prince. The merchant who Lord Clare required to accomplish the task was none other than the grandson of the captain who had rescued James II, the Prince's own grandfather, after defeat at the Battle of the Boyne in 1690, Anthony Walsh. For his services to the Prince at sea, Anthony Walsh was subsequently to be ennobled by James III as Earl Walsh.

The Prince made his way in disguise by boat down the Loire from Nantes to St Nazaire, where the 16 gun frigate La Doutelle waited. He sailed immediately to La Belleisle to await the arrival of the second ship, L' Elisabeth, a 64 gun French man-of-war. It came 12 days later with 100 marines aboard recruited by Lord Clare, 2000 muskets and some 500 French broadswords.

On July 5th they both set sail only to encounter HMS Lion, a 60 gun British man-of-war four days later. In the fierce engagement which followed L' Elisabeth's Captain, M L'Oe, was killed and his vessel and the Lion were so badly damaged they both had to limp back to their home ports. Unscathed, La Doutelle sailed on under Walsh's command but now with just a few supporters and no arms.

The Prince landed first on July 23rd at Eriskay on what is till this day known as 'The Prince's Beach', but quickly made his way to Loch nan Uamh on July 25th to begin his three week stay at Borrodale House. His few followers who came ashore with him were very soon dubbed the Seven Men of Moidart.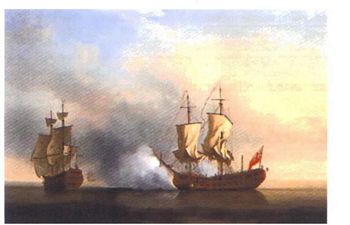 The painting above [click on the image to enlarge] is of the final stage of the engagement between L' Elisabeth and Lion. The sea battle has been carefully recorded in four phases in his log by the Lion's Captain, Percy Brett. The work of art was created for Admiral Lord Anson by Samuel Scott [1702-1772]. Its caption reads 'Action on the 9th July 1745' and records that La Doutelle can be seen escaping with The Young Pretender, Bonnie Prince Charlie, on board - La Doutelle is to be seen between the Lion to the right and L' Elisabeth to the left.

The drawings and plan of La Doutelle itself taken from Ships of the '45 is shown below - a three master.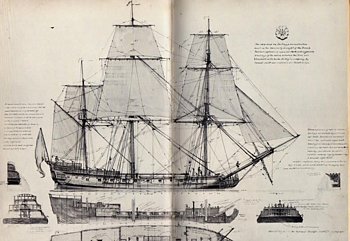 Published Date: July 16th 2009