Colonel Gardiner's 'Whole' Life Story ... in theatre
The Colonel's intriguing early life reviewed ...

Andrew Dallmeyer is by now a well familiar playwright here in The Pans. Born in Aberlady he was only too happy to create and direct the successful Battle of Pots and Pans at The Fringe and on tour across East Lothian last year. It even came in a 'radio' edition to Prestonpans Library for this year's Three Harbours Festival.

Now he's again put pen to paper and written Colonel Gardiner: Vice and Virtue. It is set on Colonel Gardiner's deathbed in Tranent Manse as in time honoured tradition 'his whole life flashes before his eyes'.

Panners will well know the tale of how the Colonel lived in Bankton House and was mortally wounded under a thorntree before being carried to Tranent Manse where he died before noon on September 21st 1745. He was a rake in his earlier life but had a Damascene conversion in a Parisian brothel and thereafter lived contentedly and virtuously with his wife and 13 childen at Bankton House until the fateful battle.

click to enlarge images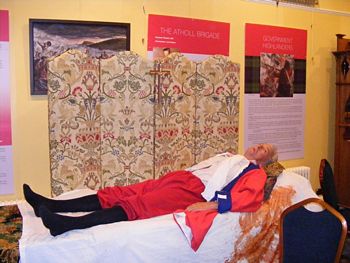 Performances at The Gothenburg on Thursday 23rd and Friday 31st July @ 7.30pm
- £5 [concession £3] tickets at the door.

The new play is presented on two nights during the course of the Prince's Clans Exhibition at The Gothenburg [July 18th/ 31st 10am/ 4pm daily except Mondays]. It is given much additional poignancy by the presence on set of a fragment of that original thorntree now owned by the Battle Trust.





If Andrew's earlier works are anything to go by this occasion will be well worth a diary commitment. Having seen what he has done here with us in The Pans it's no surprise to learn he's been a BAFTA Award winner for his earlier works.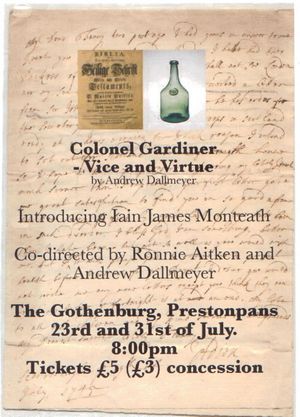 Published Date: July 10th 2009