Diggers at the walls of Preston House
Top Scottish Battle Archaeologist Leads Dig in Prestonpans

Tony Pollard and his world famous team of battlefield archaeologists were in town last month digging up people's back gardens and the grounds of the Community Centre. Their work is being undertaken for the Battle of Prestonpans 1745 Heritage Trust with Heritage Lottery support to track down any artefacts still remaining from the battle 264 years ago.

Local residents and Historical Society members in particular are only too well aware that more than a few artefacts will have become personal souvenirs over the intervening years, particularly as the battlefield was dug over and new housing created. Human remains were reinterred in the early 1950s close by the memorial cairn on Middle Road. Good to report several of those with such souvenir finds have been in touch with Dr Tony Pollard and his team.

The particular interest in the grounds of the Community Centre is that it stands today on the remains of the former glorious Preston House, home to the infamous Lord Grange. It was against the east walls of his house that the fleeing redcoats were trapped and cut down in the heat of battle. Intriguingly some sculptured white cockades were found in a nearby garden wall possibly taken from the ruins of the house.

click to enlarge all press cuttings and photographs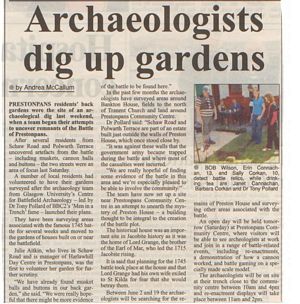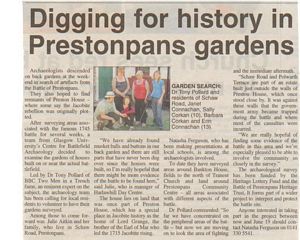 The Times and the BBC both took a very keen interest in the tale of Lord Grange and his unfortunate wife Rachel Chiesley - detail here below from The Times on June 6th.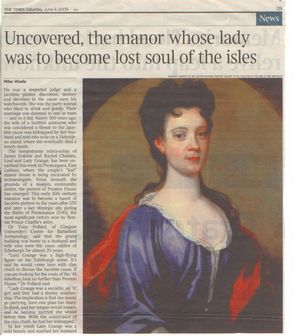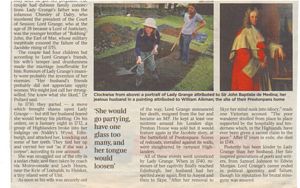 The Diggers attracted all manner of Extras ...

.... at their Community Centre dig, including Gordon Veitch with the Trust's BattleGame Board, a bevvy of spontaneous re-enactors and a 1.5 pounder cannon made at Glasgow University by Alan Birkbeck in the Engineering Department - plus his firing crew. - and of course gongoozlers aplenty.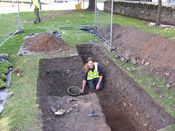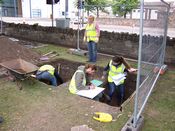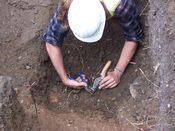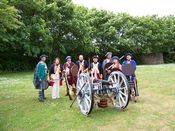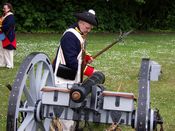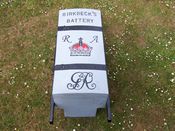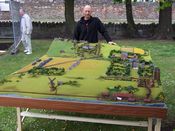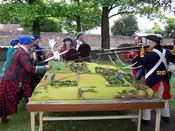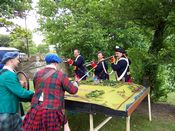 Learning the full outcome by late September .. but an interim report will be given on July 31st at 2pm at The Gothenburg

Tony Pollard's team will be giving an interim report at The Prestoungrange Gothenburg during The Prince's Clans Exhibition there which runs from 18th July/ 31st excluding Mondays. Tony Pollard's report will be given at 2 pm on Friday 31st. It is being jointly promoted with the Community Council.

Why the delay? Well, the fields to east and west of the waggonway across which the Highlanders charged on September 21st had only just been harvested then, and wont be harvested this year until the end of August. And trampling on the farmer's crop is not acceptable. So the final study will take place once the harvest is in!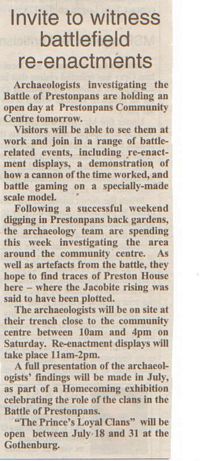 Published Date: July 12th 2009