Philomusica of Edinburgh will be playing 'Aldhammer Suite' and more .... in Prestonpans
June 13th @ 7.30 pm sees David Dorward's 'Aldhammer Suite' receive its premiere in The Pans - at Prestongrange Church

The Arts Festival is delighted to announce that Lawrence Dunn and Philomusica of Edinburgh have agreed to play local resident David Dorward's Aldhammer Suite in The Pans on June 13th.

David and his family may have been late incomers to The Pans after he retired from BBC Scotland but he quickly gained inspiration hereabouts for the Aldhammer Suite which can be heard at Prestongrange Church at 7.30 pm on June 13th - it's also advertised in the Three Harbours Programme of course.

click to enlarge the picture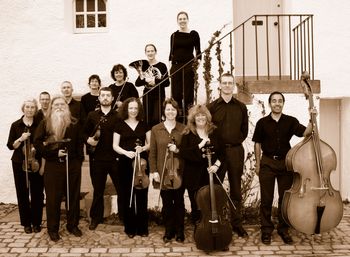 It lasts some 15 minutes so it's not surprising that Lawrence Dunn and his colleagues from the Chamber Orchestra are also playing a number of other pieces which will include:

James Oswald - Sonata of Scots Tunes

Barsanti - Concerto Grosso for 2 horns

Earl of Kelly - 2 minuets

Tunes and songs from Wendy Weatherby's music to
"A Scots Quair"

Pachelbel's Canon and Ravel's Bolero

___________________________________________________________
Editorial Note on Philomusica of Edinburgh:

David Hume MBE (1937-1999) founded the orchestra in 1976 primarily to give his pupils, and other young musicians of a high calibre, the opportunity of playing in a small chamber orchestra. Philomusica of Edinburgh has toured throughout Britain, performed at the Edinburgh Festival Fringe each year, played for many choral societies in Edinburgh and elsewhere, and performed in charity concerts and for children.

The orchestra's director since 1999 is Lawrence Dunn. He studied with David Hume and joined the orchestra in 1978, performing as a soloist, and for many years as principal second violin.



Published Date: April 21st 2009