Back in 1976 the town's salt history was swept aside but now ....on June 20th ....
Prestonpans Salt Makes a Comeback: June 20th is the day!

June 20th is indeed the day to be on the beach in The Pans where salt will be panned again. And at the same time there will be need to keep a look out for some 40 Cistercian monks coming down from Newbattle Abbey to collect their dues at around 3pm. [Their habits are being crafted as you read this news item!]

It's a joint project bewteen the Arts Festival and Newbattle Abbey College - which is where the monks stayed from 1120 until the Reformation and from where they journeyed to the Priest-Toun-Pans to collect their salt.

Word came late last year from Rae McGhee, the Abbey's Heritage Officer, that Newbattle students and staff proposed to re-enact the Walk, some 13 miles along what is known to have been the traditional route still often called Salters' Walk/ Way. So the Arts Festival dusted off its plans from 3 years ago with their own Prestonpans Salt Company Limited - which had come to nought so far - and swept into action.






A Tale of The Goth's Chef and Preston Lodge High School

The experiments some three years ago were conducted with Ian Stuart at PL and colleagues as well as The Goth's Chef Andrew Laurie. The salt panned was tested in Edinburgh and passed with flying colours although the Food and Safety Standards Office was not involved. So when this call came it was back to Andrew Laurie and back to PL to see how it could be done.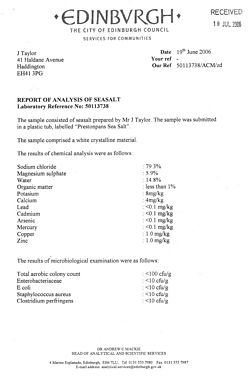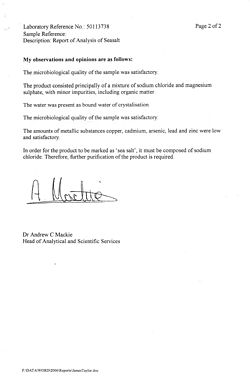 No problem, they replied. Andrew is now busy boiling the sea up to create a rough old dirty looking salt and PL is cleaning it all up as part of a Duke of Edinburgh award programme under the guidance of Science Head Gareth Evans.

Each Walker on June 20th will receive a sachet of genuine Prestonpans Salt, boxed in a traditional design, as their souvenir for the Walk. Couldn't be nicer could it now?

click on images and press cuttings to enlarge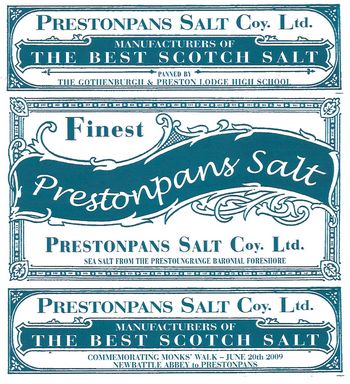 Making the Real Salt - not re-packing ICI rock salt of course

In the final salt years in The Pans salt was not actually panned as such. Rock salt was imported, repackaged and sold on. Not quite the right story to tell but it's the truth. But there was a bright side to it all even then.

A young Edinburgh University Research Associate, working in the Department of Community Studies, campaigned hard to get the final salt works buildings [now superseded by Aldhammer House] converted to a Museum, Craft Centre and some housing. He did not prevail and the press cuttings from 1976 below tell some of the story. But that enthusiast, Alexander Hamilton, is still very much with us today working as a Leverhulme Research Fellow, and he's ready and willing to play a part in what happens next.

The press cuttings make a good read especially the trenchant comments of yesteryear EL District Councillors John Grandison and John Crozier:

Young Hamilton's ideas were "airy fairy and pie-in-the-sky. ... if it was practical anywhere in the country I don't think it would be Prestonpans."

Let's face it, the answer must be the bulldozer."

Hamilton's response was an harbinger of today's Arts Festival ethos: "This is one of the most historically important sites of its kind in Scotland. It has a massive share in the country's history and it is irresponsible for a Councillor to suggest the lot be bulldozed. This looks like Mr Grandison is displaying sheer ignorance towards the possibilities and scope of the area. It offers the chance of a craft industry revival in Prestonpans."

Amen to a' that!

Make the diary note please, June 20th on the beach at the foot of Redburn Road to see sea salt made once more ...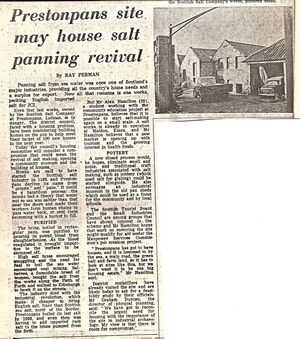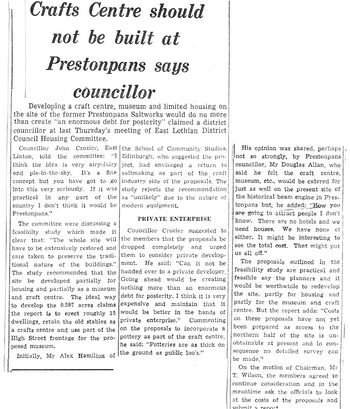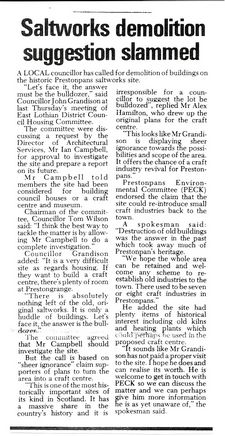 Published Date: April 9th 2009