Trustees' Get Lucky, Very Very Lucky - with Help from Indiana Jones [aka Gordon Veitch]!
Call to Indiana Jones Comes Good ..

Earlier this year the man himself was invited to assist the 'cultural restitution' of the Prestonpans/ Colonel Gardiner Thorn Tree stump held by Scotland's National Museum since 1931 [which had denied us three requests in 2007]. Little progress seemed to be made until ...

Leslie and Leslie of Haddington meet with Gordon Veitch to tell ...

.... that in a clear out of their store areas recently they came across an old artefact that they thought might interest Gordon, because they knew he was working to create the Battle of Prestonpans BattleGame for the Trust. "Could they swop it for a left handed broadsword", they asked? "Certainly" replied Gordon. But who was KCF who signed the card attached on December 19th 1931 - all suggestions most welcome.

click on the images below to savour this significant moment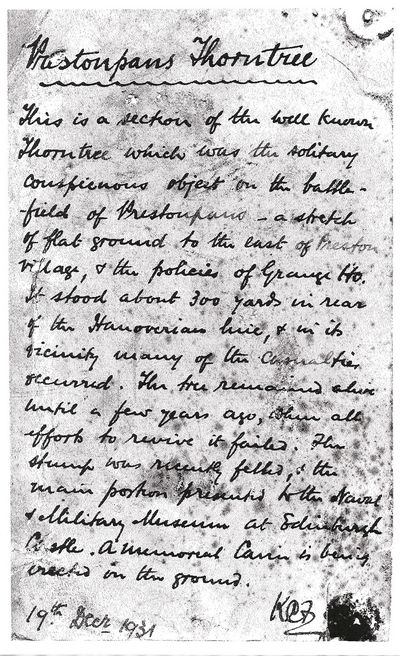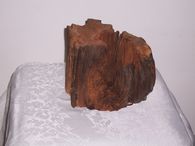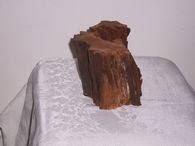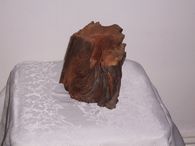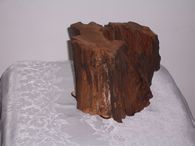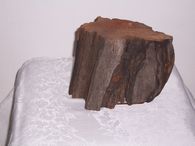 Gordon Veitch Donates the Stump to the Trust but leaves the challenge on how to present it to the Trustees

It must be the sort of item that the Antiques Road Show finds hard to value, at least in monetary terms. But for the Trustees it's a stroke of the greatest good luck. Not only do we now proudly possess for our community a part of the famous tree but the note attached by two rusting drawing pins tells more of the tree's location some 300 yards to the rear of the Hanoverian lines when the dawn attack was launched by the Highlanders.

We have no reason to doubt it's authentic. The reference to the Naval & Military Museum is correct as the destination for the main portion and the dates and reported location coincide with other records from Hannah in the Proceedings of the Society of Antiquarians of East Lothian - a most elegant piece well worth linking to at the above title.

The pictured fragment now in the Trust's possession measures 5" high with a maximum width of 7" and minimum of 4.5". The photographs above offer all the angles.

Suggestions on how and where to display the tree stump are invited as soon as possible.




Published Date: September 26th 2008