The Arrival of The Prince in 1745 was Awaited ... with a Medal ...
Ignorance is Bliss for Trustees!

When the Battle of Prestonpans Trustees resolved to 'suggest' the enduring message of the Battle of Prestonopans for the Highlanders and The Prince was 'Victory, Hope and Ambition', it has to be said they had no knowledge that a medal had been struck in 1745 by those "awaiting The Prince's arrival". Nor that set upon it were the words AMOR ET SPES, Love and Hope; nor that it would depict a ship sorely tossed upon the seas espeyed by Britannia displaying the 1707 Union flag.

But such a medal was indeed created as shown below for Charles Prince of Wales, CAROLUS WALLIAE PRINCEPS:

click to enlarge the image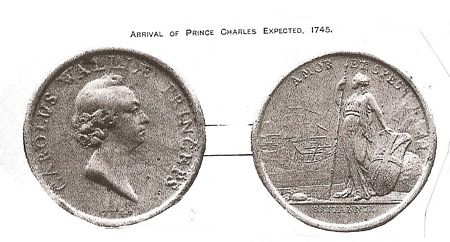 Plans are afoot ....

So, just as the Trustees travelled to Derby to reverse the fateful decision there to turn back, so too are they now contemplating re-striking that medal to commemorate the Prince's Journey in 1745 as the Prestonpans Tapestry is taken along all the stages of that journey from Nantes/ St Nazaire to Prestonpans. And with just one modification perhaps so that it proclaims: VICTORIA SPES AMBITIO, Victory Hope Ambition.




Published Date: September 9th 2008