Prince Charles Edward Returns to Duddingston: September 19th as before ...
EVERYONE WELCOME TO MEET THE PRINCE IN DUDDINGSTON

The timetable for the Prince in Duddingston is given below. The main venue is the ancient Sheep Heid where the Prince and his followers surely enjoyed the night of the 19th September before battle was joined at Prestonpans. The Baron of Easter and Wester Duddingston, Michael MacKenzie, will be hosting lunch for The Prince.

click to enlarge the poster below and print out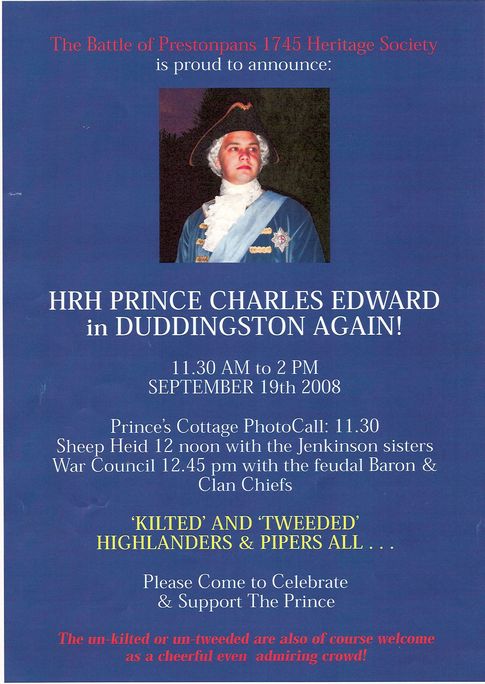 September 19th was indeed the date in 1745 when Prince Charles Edward held his Council of War in Duddingston, as Cope assembled his 1500 redcoat troops, 12 cannons and 500+ dragoons on the plain at Prestonpans. The Council resolved to proceed the following day to Fa'side Hill and Birsley Brae.

He lodged overnight at The Cottage in the village and met amongst others the Jenkinson sisters, Beatrix and her older sister Mary, along with their brother who were all visiting Tranent from Athelstaneford where their father was the Minister. The Prince was greatly impressed by the sisters flattering young Beatrice on her beauty and gave her a diamond ring - which the Prince took from his own finger - declaring "You are the bonniest lassie I have seen in Scotland".

At the conclusion of the battle on the 21st these two sisters Beatrice and Mary were to nurse the mortally wounded redcoat Colonel Gardiner at the Tranent Manse until his death there early on the 22nd.





Louise Hogg, latest daughter of Tranent Manse shown above, re-enacted the Colonel's dying scene there on September 21st/ 22nd 2007 and will be in Duddingston this year to receive the diamond ring and Prince Charles Edward's compliment!
___________________________________________________________

P.S. Seems there's an historical bargain on the market too ... if the Prince cares for a longer stay this time!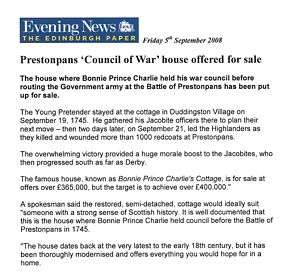 Published Date: August 23rd 2008