Read it first in the Ross-shire Journal ...
It's all about the day of the week our respective local papers are published!

Whereas The Ross-shire Journal comes out on a Friday, our two East Lothian local papers hit the streets on Thursdays. So, the well kept secret that both our mural cousins in Invergordon and our own local EH32 mural by Adele Conn at Prestonpans Railway Station have been 'nominated' and shortlisted for the national Community Railway Awards broke first in Ross-shire!

The Ross-shire Journal's Lynne Bradshaw writes:

'A dramatic mural at Invergordon railway station which pays tribute to the Seaforth Highlanders who fought at St Valery has been recognised in a prestigious competition.

The mural — commissioned by Invergordon's Off the Wall group and supported by First ScotRail's Adopt a Station scheme — has earned a place in the finals of the Community Rail Awards. The paintings, part of the Invergordon mural trail which has created Scotland's largest outdoor art gallery, [nice try but actually not so Lynne; Invergordon is well behind the Scottish Murals and Outdoor Art Capital, which is of course Prestonpans! Ed.] have transformed the station into a stunning gateway for works of art [that's certainly true, and they also forgot to mention that HRH Anne, The Princess Royal unveiled it for them!]

Created by artist Tracey Shough, the mural is a spectacular tribute to the Seaforth Highlanders, part of the 51st Highland Division left behind at Dunkirk to delay Rommel's advancing tanks. [Part of the mural sequence is shown below Ed.]

click to enlarge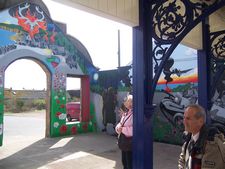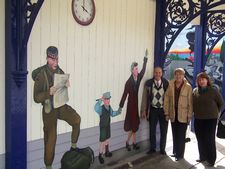 The 'Off-the-Wall' group, a charity dedicated to the town's regeneration and community involvement, is delighted at being a joint finalist with Prestonpans in the Community Arts Schemes category in the Community Rail Awards.

Marion Rhind, the group's Vice-Chairperson, said: "We are so proud that our station mural has been shortlisted with our friends at Prestonpans. Our station mural is a lasting tribute to the Seaforth Highlanders. It was created by renowned artist Tracey Shough who worked successfully with all ages in the community to transform our station building into an eloquent canvas that sings out the story."

John Yellowlees, First ScotRail's External Relations Manager, said: "We are delighted at this recognition. The mural gives the station a more cared-for appearance, tells our customers something of the area's heritage and leaves them in no doubt that Invergordon station is at the heart of the community it serves."

The Gala Aawards Dinner will be held in Plymouth on September 19th - which for us Panners falls on the night the redcoats are occupying Prestonpans again prior to the Battle re-enactment on September 20th! [Ed].



Published Date: August 15th 2008