'The Massacre of Tranent' - by James Lumsden [1896]
Tranent Church Manse and Yard both played a key role in the 1745 Battle of Prestonpans - but the Tranent Massacre in 1797 some 50 + years later is also carefully commemorated

The statue below stands in Tranent's Civic Square. It depicts Jackie Crookston and a child who were part of a protest crowd who marched through the streets of Tranent in August 1797 to protest at the Westminster Government's decision to introduce compulsory military service in Scotland better to prosecute the Napoleonic Wars. A total of twelve people, including Jackie Crookston, were killed in the ensuing riot by soldiers led by a brutal Major Wright as he sought to restore order.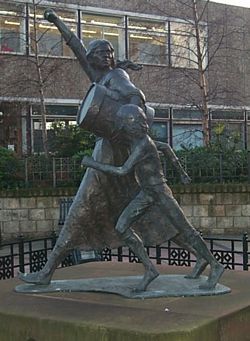 James Lumsden's poem on 'The Tranent Massacre' as it quickly became known was published a century later in 1896. Click to enlarge the text and for printing out.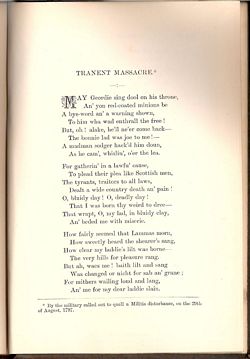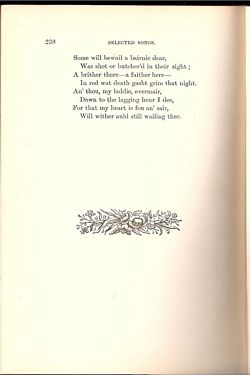 Colonel Gardiner Died in Tranent Manse in 1745 and is Buried in the Churchyard

On September 20th 1745 an advanced party of the Camerons was posted in the Churchyard but after being spotted by a redcoat scout were bombarded by Colonel Whiteford's cannon taking severe injuries before they withdrew. On September 21st, after being fatally wounded on the battlefield, Colonel Gardiner was carried to The Manse by his servant disguised some say as a miller, and cared for by the two Jenkinson daughters of the visiting Minister from Athelstaneford. He died early on September 22nd and is believed to have been buried beneath what is now the south wall of the rebuilt church.

The pictures of the early church below come from Sir Walter Scott's Waverley, as found in the 1st and 2nd Editions respectively. It is hard to comprehend why the 1st Edition had Tranent Church with a spire, since the illustration in the 2nd Edition shows it as it certainly was - with a tower and a quite different shape!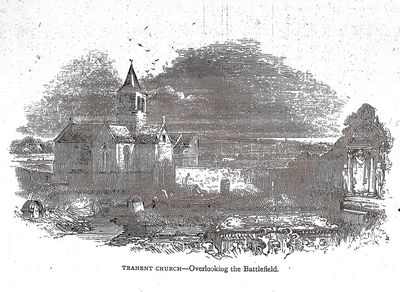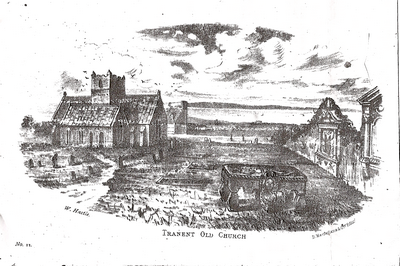 Published Date: August 14th 2008