Burriss Lord Novar & Sir John Ross 2008 Winners Report to Scotland's Culture Minister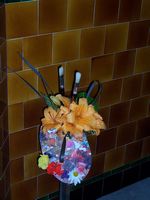 Exhibition of 100 Paintings and the Bursary Winners Showed their artworks to Linda Fabiani, Scotland's Culture Minister

Linda Fabiani readily admitted she had never been to Prestonpans in her life before, so she knew there was a steep learning curve for her to climb. But all the 'other' debates currently in hand with her office and Historic Scotland re our town's Auld Coveal HQ were placed to one side for the day. Why spoil a party?

The Day's Agenda was to meet with and share what local artists had achieved with the Arts Festival's classes, and to showcase the work of the 2006/ 2008 Bursary Winners - the fourth occasion they had been awarded. And all this in The Goth's Centenary Year as launched in 2007 by Jorgen Linder, Goteborg's Lord Mayor from Sweden [hence the 100 Paintings placed on view].

The '100 Paintings Exhibition' was held in the Thomas Nelson Suite and the Bursary Winners' works were displayed in the James Park Bistro. But as the photographs below show, James Fewell's Bar was popular for its scones and tea and another beverage or so!

Whilst Andrew Crummy as Arts Festival Convenor was responsible for 'steering' the Minister through her two hour visit, the objective was that she met and talked with as many artists as possible.

click on all photographs to enlarge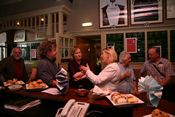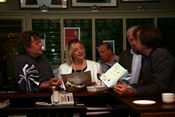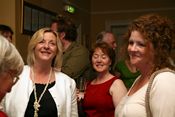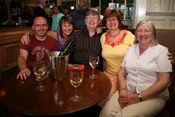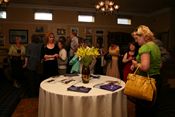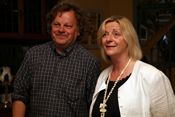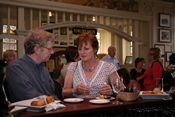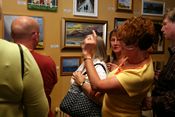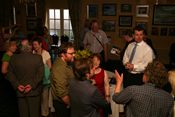 2006 - 2008 Winners Showcase Their Work

Firstly below Carole Melrose discussed her portraiture and caricatures with the Minister, and then Sona McMillan, joint Lord Novar Winner with Carole, described her photographic work depicting life in the community. Finally Linda Fabiani met Mr Buchannan, Gardner Molloy's sclpture of a revered member of the town [of which more later].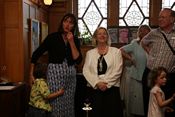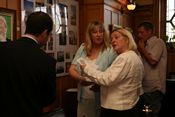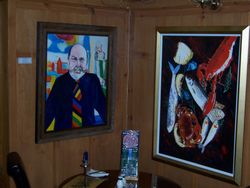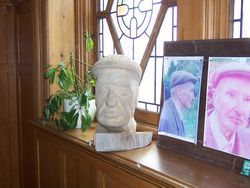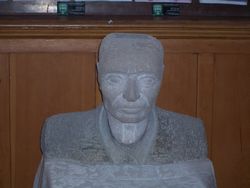 The Last Word ... and Congratulations to All Came from The Minister

It was universally agreed by those present that the visit had been an enjoyable one for the indwelling artists and elegantly set the backdrop for the evening's McGonagall Bad Poetry Supper to follow. But before that topic was raised amongst ourselves, Linda Fabiani was invited to have a last word. She kindly congratulated the community at large and the artists in particular for all that had been achieved and said she too had enjoyed the occasion - a memorable first visit to The Pans.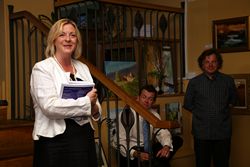 She certainly departed knowing something about The Pans and perhaps why she has a fight on her hands about the Auld Fowler's HQ!
Published Date: August 1st 2008