[II] Colonel-in-Chief Martin Margulies .... Looking the Part and Speaking the Lines ...
In Person He Came ... to address his own Regiment, The Alan Breck Prestonpans Volunteers.

The Regiment knew him as a human rights lawyer and author of The Battle of Prestonpans 1745, published in 2006 - the only book to take that specific title. He was a Yankee who, from the moment the Trustees first approached him, had been really exceptionally helpful. So it was always going to be a fine occasion, when we finally met, and orders were issued. But how would he strike us all? How would the Colonel dress? How jaunty the white cockade?

They say a picture tells a thousand words, so here's a picture of two - thanks to Linda Sneddon - taken whilst he addressed his motley Regiment who were indeed in their motley!

click on images to enlarge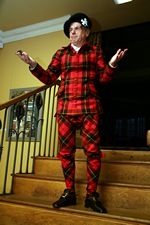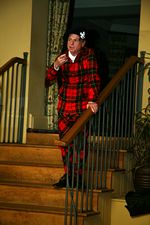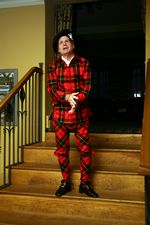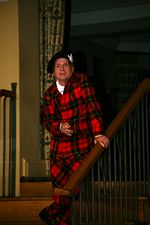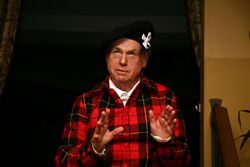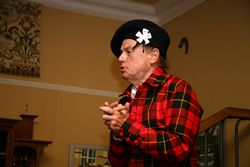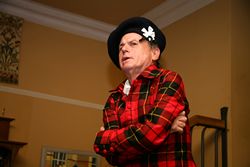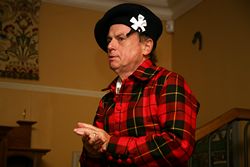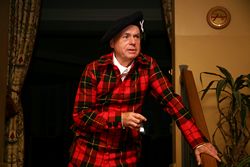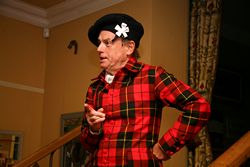 P.S. His message, unjustly abbreviated and translated from mid-Atlantic legalese was: "Carry on Chaps, and Let's Raise our Game to the Sky for 2011.".

"When our Hopes and Ambitions lead to Victory ... The Prince will be mightily proud of us all; and so too Colonel Gardiner and General Sir John Cope."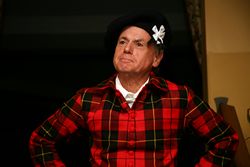 He looks well content with the ranks he surveyed, a Captain of the Lascelles Regiment, a navy artillery man, many a Highlander and many a lady. General Glenbucket's and Prince Charles' Own Derby Regiment were represented; the Publican of The Sheep Heid at Duddingston and the Barons and Ladies of Dolphinstoun & Prestoungrange were there also - Dolphinstoun with his Bailie. And of course HRH Prince Charles Edward and Garrioch Pursuivant to the Duchess of Mar along with the Depute Provost of the County, elected Councillors, la chantreuse, les auteurs, les artistes et les danseuses ....

We understand he was well contented.





Published Date: July 29th 2008