Pipe Bands & Fine Dining just the Precursor to Action!
Alan Breck Regiment Meets its Colonel-in-Chief ... at last

When the Battle Trust resolved that it needed to make sure a band of local Volunteer Re-enactors was always on hand, it was easy to determine that Panner Adam Watters, longtime appearing on the Royal Mile, should be the Agitant. But who should be the Colonel-in-Chief?

After goodly discussions it was agreed that the US human rights lawyer who had penned the recent [and only] book entitled The Battle of Prestonpans 1745 should be invited. He was reportedly surprised to be asked, not least because his book observed how little commemoration there was in these parts, but he readily agreed. Then he learnt that being Colonel-in-Chief was a bed of [white?] roses which required proper attire and a presence with his Regiment. First stop was his sartorial outfitters. And then ...

The date was set, July 22nd. On that day he will finally and now very shortly meet his motley Regiment! In the turncoated spirit of Alan Breck, it includes Highlanders, redcoats - and Independent Volunteers such as Edinburgh sought to raise in 1745. What all have in common is a commitment to helping ensure that the re-enactments each September by the truly serious fraternity and sorority of re-enactors who visit us from afar are well supported.

Pipes and a Fine Dinner

In the best traditions of all Scottish Regiment, albeit Volunteers, we'll expect Hey Johnnie Cope at Reveille. And there will be pipers, drummers and, necessarily Regimental Dinners in The Mess [at the Gothenburg]. It is with great delight that the Regiment's Colonel-in-Chief will on Tuesday night be handing the Regiment's Pipe Banner to the Pipe Major after they have played their medley at The Gothenburg. And those Pipes and Drums of the Regiment are being provided by the Prestonpans Branch of the Royal British Legion. It's an enormous privilege for the Regiment which is most grateful.

Also receiving its Colours is the Regiment itself, established by The Prince at Holyroodhouse Palace on September 20th 2007. HRH Prince Charles Edward [aka Arran Johnston] will be presenting them.

click to enlarge images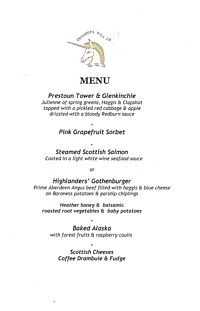 And all that is before the Regiment sits down for Dinner to finally agree the re-enactments for September 2008. Present will be D J Johnston-Smith, publican at the Sheep Heid in Duddingston, where the re-enactments will include a meeting of the Prince's Council there on September 19th, the 263rd anniversary.

The press have already heralded the evening's events ...

Be assured if you live locally there will be no fireworks, but the band will be playing merrily from 6.30 - 7.15 pm.

Volunteers to join the Regiment are still most welcome. Come along and join in the fun with the Pipes and Drums and in the James Fewell Bar afterwards from 7.30 pm. Alas no further seats are available at the Dinner.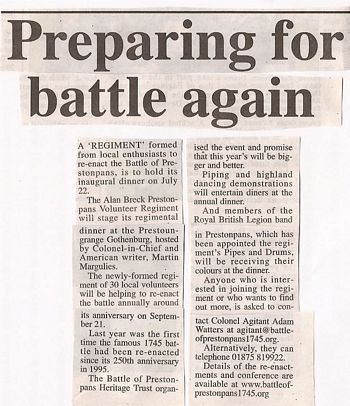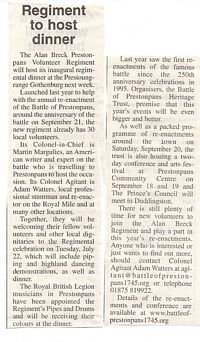 Published Date: July 19th 2008