Pots and Pans at the Fringe
Make that diary date please: August 4th - 10th at 7.30pm

Details of the flyers for the Battle of Pots and Pans at The Fringe are given below. It's very easy to reach at St Cuthbert's Church just off Princes Street beneath the castle wall. The team that took the play/ pageant on tour across East Lothian invites your support - details are linked HERE.

It is also hoped that the Trust's BattleBus can join the Cavalcade that takes place on Sunday August 3rd afternoon through Edinburgh.





BAFTA and three-times 'Fringe First' Winner Andrew Dallmeyer wrote our play ..

Aberlady born Andrew Dallmeyer wrote the play which cleverly depicts the divided loyalties of the times twixt Jacobite and those for the Union and the Elector of Hanover. Coreen Scott and Laverock provide the songs, and they know the Fringe well from their appearances there in 2007. John Lindsay, our Poet Laureate, contributes new poetry and song.

N.B. PLEASE FORWARD THESE DETAILS TO YOUR FRIENDS AS WELL

click to enlarge and print out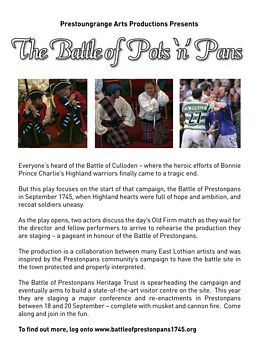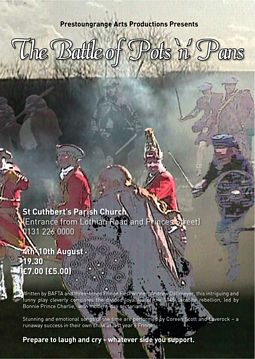 Published Date: July 5th 2008