Smeaton Junction: Malcolm Cruickshank's Pastels and Photographs of Prestongrange Heritage Museum
SMEATON JUNCTION - the exhibition is in the Goth Bistro, Prestonpans and runs till Saturday 19 July excepting Mondays.

The current exhibition has evolved from Malcolm Cruickshank's association with Prestongrange, first as a Museum Assistant then as a workshop tutor and an exhibitor in the 3 Harbours Festival. This exhibition shows photographs and oil pastel relief drawings.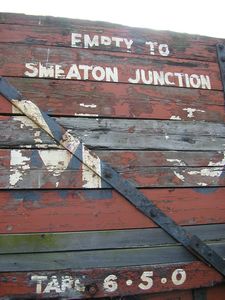 Malcolm's Biography so far..

Malcolm lives and works in Edinburgh as a textile and multimedia artist, having graduated in Contemporary Applied Arts from Cumbria Institute of the Arts. His work is always varied, unusual and visually pleasing. He enjoys using discarded and recycled materials and resources and is flexible and innovative in how he incorporates them into his art. In 2006, Malcolm received a Dewar Award in recognition of "outstanding talent in his field".

He has been selected for and has organised many exhibitions now, including his successful solo exhibition, Haute Kilture (which showcased a range of alternative kilts and accessories and was featured in Prestongrange Powerhouse Gallery in 2007) and he has undertaken a variety of commissions, including the piece Twenty Five Years in Edinburgh for the City Art Centre, which was also selected for the Visual Arts Scotland exhibition in the Royal Scottish Academy this year and was chosen to receive the Morton Fraser Award. Malcolm has also produced two artist books.

In parallel with his career as a practising artist, Malcolm has been developing a career as a tutor and has now undertaken several successful artist residencies and individual workshops. He has been working with a number of schools and community groups and his recent engagements included two major and very different projects. In Blairgowrie the groups developed sculptures as part of a larger poetry project and in Fife Malcolm was one of the artists exhibiting on and travelling with the Mobile Museum (in conjunction with Fife Contemporary Art and Craft) to deliver workshops which related to artists' workspaces and methods of working. He recently completed work with East Lothian schools, including a residency with Musselburgh Grammar School which also took its inspiration from Prestongrange Industrial Heritage Museum.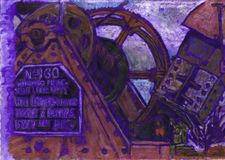 P.S. Framed photographs cost £10.00, drawings £70.00. Reserve at the Goth and send a cheque to the address below. Malcolm Cruickshank, 20 Alnwickhill Gardens, Edinburgh, EH16 6NF Ph. 07810874509 or email dweeb_firestar@hotmail.com

Published Date: July 5th 2008