Battle Stations on Stage Across East Lothian
Robert Allan Tells of his East Lothian Battle Tour

One of last month's more unusual East Lothian activities, just before either the 3 Harbours Festival or our Gala season swept us along, was the theatrical tour of kirks arranged by the Battle of Prestonpans 1745 Trust. When Andrew Dallmeyer first penned the play Battle of Pots and Pans that was premiered in June 2007 in The Pans it was intended and has always been seen as good publicity for the work of the Trust. But as with the portakabin Battle Visitor Centre last year at Meadowmill, only those who actually came to The Pans could get the message.

So the plan was hatched to take Andrew's play on tour both across East Lothian and to the Fringe this coming August - and of course the Visitor Centre became the mobile BattleBus which also now 'tours'.

click to enlarge details of the kirks visited



Robert Allan, one of the play's volunteer cast, was asked to record his impressions of life as a roadie! Here are his comments:

The Battle as Inspiration for Artists

"One of the most significant events in Prestonpans history occurred in 1745 when the 'Bonnie Prince', Charles Edward Stewart and Lord George Murray overcame General Sir John Cope troops in a remarkable military engagement known worldwide as The Battle of Prestonpans. Although horrific in terms of death and suffering the battle itself has spawned a remarkable proliferation of arts, music and playwriting being led today primarily by the local people of Prestonpans.

"So it came as no surprise then that a group of children and parents came together to re enact the history of the event with Andrew Dallmeyer, double BAFTA winner. The Battle of Pots and Pans sees the battle described by wee girls, mothers, royalist soldiers and Highlanders.

"The pageant itself takes the form of a play within a play, acting out a rehearsal, where Dallmeyer cleverly links the catholic for Bonnie Prince Charlie, played by Kelly Ross, and the protestant royalists through two characters, one a Rangers' supporter [Bob Allan] and the other supporting Celtic [Robin O'Donnell]. This sets the scene for the opening of the play - the day before the battle, listening to the real fears, doubts and hopes of both the Highlanders [Steve Aitchison and myself] and a royalist [Stuart Cuthbertson]. Four wee lassies, Isla Macaskill, Claire Strock, Megan MacDonald and Abi Cowan, playing games and discussing the forthcoming battle share the excitement of it all, that is until they realise that it is their fathers who will be fighting.

click on all the movie stills below to enlarge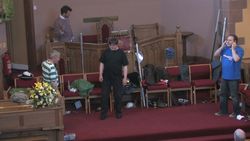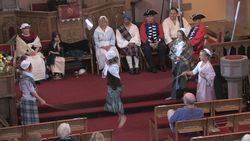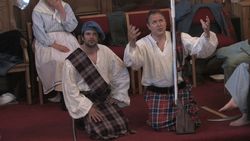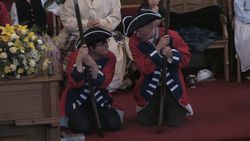 "Fantasy dream scenes depict the battle from both sides reinforce the football links and lead the rest of the play. The conflict itself is enacted through a remarkable 'pots and pans' sequence and a series of 'stills' as the highland charge and the slaughter of the redcoats are played out.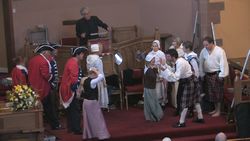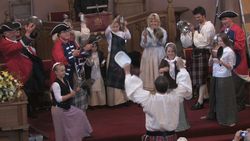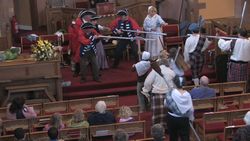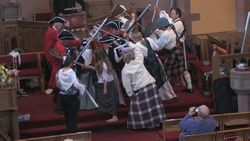 "The final part of the pageant provides moving scenes from the earlier children, the mothers and wives [Jean Matthews, Caroline Tait, Ros Parkin and Kelly Ross] of the men that have been lost in the battle - recounting the real cost of the battle; the waste of life and the futility of warfare. The death of Colonel Gardiner is portrayed through the acting and singing of Coreen Scott, as Lady Gardiner who on her return from Stirling keep discovers her husband mortally wounded beneath a thorn tree. The music throughout the pageant is arranged and performed by local group Laverock [Coreen Scott, Alasdair Morrison and Gavin Pagan] with new poetry from John Lindsay".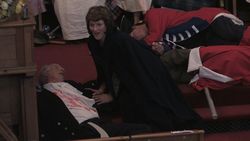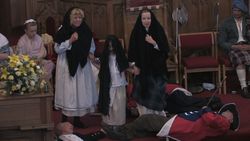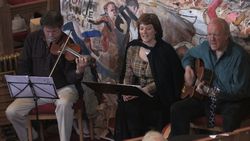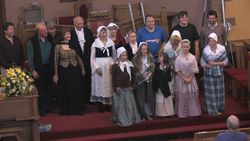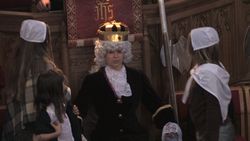 Touring 2009 and Beyond

Such has been the reception given to the Battle o' Pots and Pans on tour and in The Pans that its further tour is very much anticipated, as well as further new works for the theatre. Derby to which the Prince later marched is one destination as is Prestonpans twin town Barga in Tuscany. Closer to the scene of battle however any and all venues are cordially invited to invite the Trust to include them in their schedules. The purpose is simple: to bring the history of that time into as many communities as possible.



Published Date: June 30th 2008