'Living History' Murals Hails Walkers from North Berwick
North Berwick Walkers Absorb Pans Living History

It's always been on the agenda for the Arts Festival to arrange a theatrical 'Living History' Murals Trail, and it came more than a few steps closer on June 6th during the Three Harbours Festival.

Under the leadership and direction of local actor Kelly Ross, with most considerable support from Andrew Crummy, Arts Festival Convenor, and Poet Laureate John Lindsay, a walking group from North Berwick was treated to 'Living History Going West' - that's the murals trail from The Goth to the Mining Heritage Museum.

John Lindsay started the 'experience' reciting This is Prestongrange written on the occasion of the town's Twinning with Barga, and Brogan Fleming [pictured below] singing the Arled Bairn song plus a re-enactment of a pit accident at the mine shaft involving youngsters Bobbi and Deacon Ross. A visit to the Beam Engine followed - in which Davie Stott played the role of the much resented Overseer that later saw him consigned to the stocks by the Barons' Courts and pelted with rotten fish and vegetables by the indwellers.

click on images to enlarge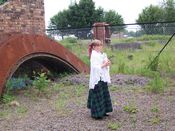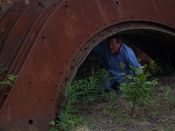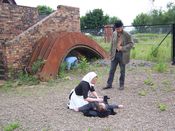 The trail then led to Sam Burns' Yard where in front of the new mural of Sam and his heirs the Yard's history was recounted by Gordon Burns and John Lindsay.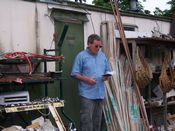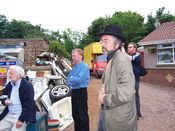 The walkers next heard tales of the Bing Boys [and were later to meet octogenarian Bing Davie at the Goth!] as they made their way to Cuthill Park mural for the sentencing of Claire Shepherd, Mhairi, Jean Mathews and Abi Cowan by the King's Commissioner Stuart Cuthbertson - drawn from a coven scene in Roy Pugh's witchcraft plays. They then proceeded via Summerlee towards the beach murals sequence.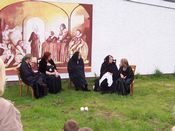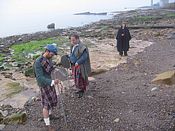 This time there was no Johnnie Moat to be seen [as there was for the Global Murals Conference in 2006] but as the walkers reached the steps up to the John Muir mural at the foot of Redburn Road they met two Battle of Pots and Pans re-enactors [Steven Aitchison and Bob Allan] pondering on September 20th 1745 what their morrow might bring - and Coreen Scott sang awhile. She sang again as the walking group reached their final destination at the Witch Memorial in The Goth's south garden and the Poet Laureate recited the poems he has penned for the annual remembrance that takes place there each Hallowe'en.

More Walks and Living History To Come

The Arts Festival is already pledged to creating a more 'formalised' opportunity for such Living History Walks and Kelly Ross, John Lindsay and Coreen Scott will be carrying them forward in 2008/ 2009.

Mailings are about to be sent to some 700 community groups across the Lothians and Edinburgh suggesting they might include this Walk or any other visitor experience in their annual schedules. [Details are shown below]. To date some 30 + groups of every variety from architects and bikers to walkers and history clubs have taken advantage of the Walks and guided tours, and frequently a Goth gastro-pub experience too - and many more are expected in the years ahead. Perhaps the most ambitious if untypical visit so far has been the 109 Swedes who flew in by charter flight and made our Goth their goal!
__________________________________________________________

Comments received subsequently ...

"Chatting during our subsequent walk confirmed what I thought, that everyone enjoyed your interpretation of the historical events portrayed in the murals, which was nicely finished off by the refreshments in the Goth at sunset. (I think you might have won a few new customers there).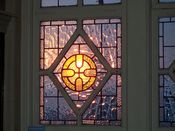 Our congratulations to the performers - singers, actors, John Lindsay's poems and of course the Baron. Would you pass on our appreciation to them all.

Our only reservation is that we saw just a fraction of all the murals. Perhaps next summer we will ask to have a look at the rest - though we don't expect this sort of reception every time!

Bernard Ginty, Chairman, North Berwick Ramblers Club"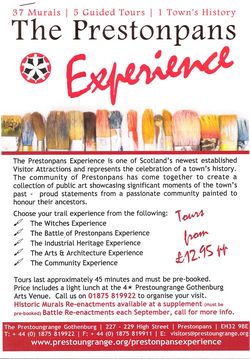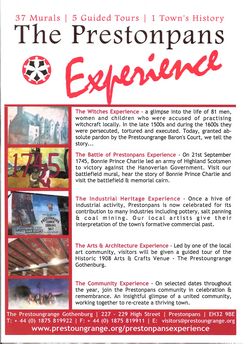 Published Date: June 18th 2008