Invergordon meets HRH Anne, The Princess Royal, at their station
Invergordon's Murals Programme Gets Royal Visit and Royal Approval

We may lodge claim to be Scotland's oldest and finest mural town, but Invergordon has equalled us here in The Pans with a railway station mural of their own, and they beat us to a royal visit to unveil it. But there is a difference! Invergordon's Railway Station Mural commemorates the Seaforth Highlanders who were based there and often bade a 'Long Goodbye' to families there - rather than telling the history of the station itself which we resolved to address in The Pans.

click on all images to enlarge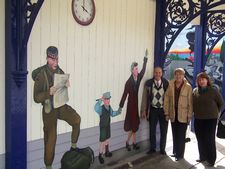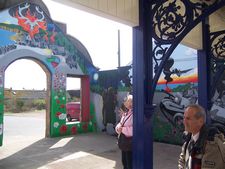 Two other murals figure in the promotions of 'Cruise Highlands' as they seek to attract yet more cruise liners to the port as shown below.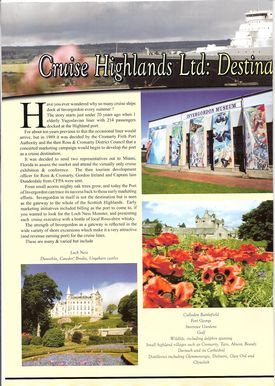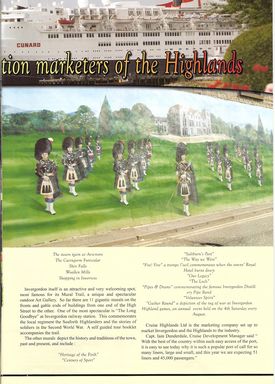 Late Starters but Well Funded and Highest Quality Murals Art

Invergordon were fortunate to gain substantial funding as they started their programme from Highlands and EU sponsors, and it has been well spent indeed. Inaugurated by Ken White in 2004/05 they now have 13 in total which make a very strong impact as one travels downtown. Each and every mural, and the selection of the artists to paint them, were driven forward with extensive community involvement.

The wildlife of the area is captured [below right] in a manner reminiscent of 29 Palms in California from their neighbouring Joshua Tree National Park; and the Tug of War is boldly illuminated at night.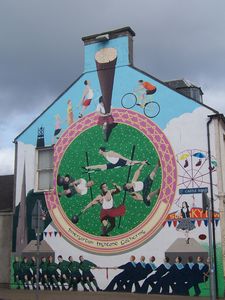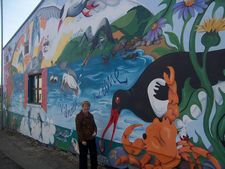 For the fullest appreciation, click for their website here.

P.S. ... and here's a familiar face from Fowler's Ales ..

..Craig Allen's new location 4 miles north of Inverness is at Black Isle Brewery - which overlooks Invergordon, so he's no need to be mural-sick!. He's happy in his work and hopeful that the Porter they brew on the Black Isle peninsular will shortly find its way to The Goth!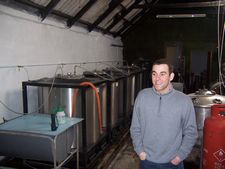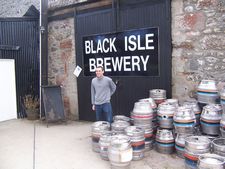 Published Date: May 4th 2008