Tasmin Little and Much More at Three Harbours .... starting May 31st
Star violinist to take a bow at Three Harbours Festival

Internationally acclaimed violinist, Tasmin Little is to be one of many major artists involved at the Three Harbours Festival. She will be performing in and about Cockenzie Power Station which has fantastic indoor acoustics!

The classical music star, who has performed with some of the best orchestras across the world, will give an opening concert on May 31 against the backdrop of the Cockenzie Power Station's twin chimneys which will be lit up for the occasion. Tasmin Little will also conduct a "masterclass" session with young East Lothian musicians in a Native American tipi during the festival.

Festival organiser Andrew Crummy said: "It's fantastic to have someone of Tasmin's reputation at our festival this year and it's also great to have a high-profile musician which emphasises that our Three Harbours Festival isn't just about visual arts. It also embraces music, theatre, poetry, tapestry, writing and more.

"This year is the 40th anniversary of Cockenzie Power Station which holds a key place in our community, so it is particularly fitting that it is playing such a big role in our festival this year. Scottish Power have of course been sponsors of our Festival since its inception."

For details of Three Harbours Festival from May 31st this year log on to their website here: www.3harbours.com

click on press cuttings from The Herald, East Lothian News & East Lothian Courier to enlarge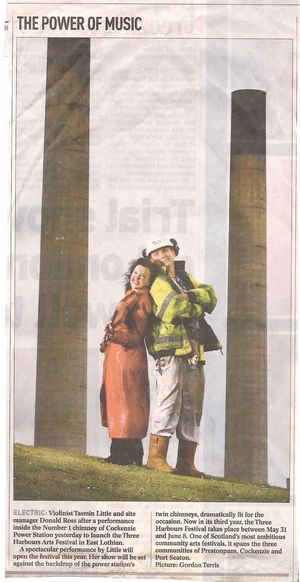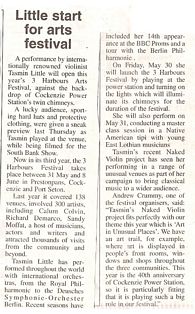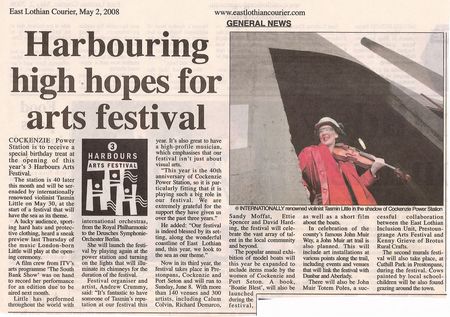 Next Planning Meeting - Volunteers Still Invited ...

There's a Meeting on Thursday 8th May at 8.30pm at the Business Centre, Edinburgh Road, Cockenzie.

All Volunteers/ Artists are invited to come along to discuss their involvement in this year's Festival. It's as big/ bigger than 2007 ..... a huge array of fantastic events. Brochures and posters will also be available to take away and distribute.

With only 4 weeks to go now and the organisers would really appreciate any help that can be offered. There's a wide range of tasks that we need people to offer a small amount of time to help with so that this year's Festival can run smoothly as ever!



Published Date: May 4th 2008