Prestonpans Battle Re-enactments 2008 Heralded for September
Proclamation of King James VIII at Edinburgh's Mercat Cross sets the Trust's Re-enactments Rolling for 2008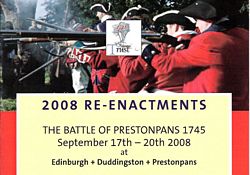 The Trustees are once again staging 'authentic' re-enactments of the heady days of September 1745 when the Highlanders supporting Prince Charles Edward swept into Edinburgh and won their famous Victory at Prestonpans. The 77th Montgomery re-enactors who joined us in 2007 from the Czech Republic and General Glenbucket's Regiment will be here once more, and they will be joined by Lace Wars and Derby's Charles Edward Stuart Society. Local volunteers from our own Alan Breck Prestonpans Regiment will take part as will the Alan Breck Regiment's own Pipes and Drums - provided by the Royal British Legion in Prestonpans whose banner is shown below.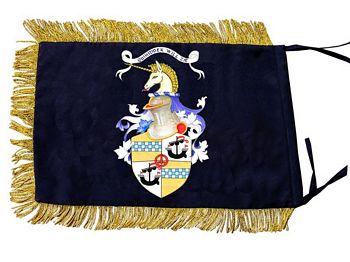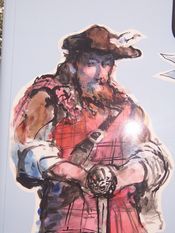 The schedule below is now virtually firm and updates of any revisions will appear at this website under RE-ENACTMENTS to be found on the Home Page.

click to enlarge and print out as necessary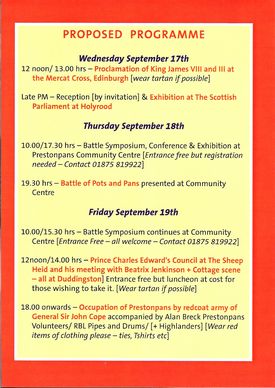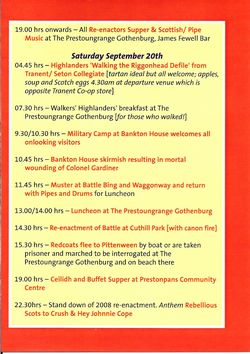 Proclamation of King James VIII in Edinburgh on Wednesday September 17th @ 12 noon

This will re-enact the precise happenings on September 17th 1745, at the Mercat Cross. It will be followed in the late afternoon and evening by an Exhibition of the Trust's Dream for the future presentation of the Battle in Prestonpans - at the Holyrood Parliament.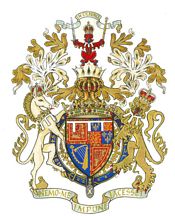 Friday September 19th Sees The Pans Occupied by Redcoats, and the Highlanders holding a Council of War at Duddingston's Sheep Heid

In 1745, after landing at Dunbar, Sir John Cope and the redcoat army marched as far as Prestonpans and resolved to do battle there. Prince Charles and the Highland Chiefs met at Duddingston and planned their own approach towards the redcoats. They then marched up Carberry Hill and on to Birsley Brae where they could see Cope's army on the plains below, but were separated by marshlands – now drained and providing passage for the railway and the A1.

Saturday September 20th Presenting Scenes from the Battle Itself

Saturday at 5am the Highlanders make their famous march along the Riggonhead Defile from Tranent to Seton Collegiate. All are welcome and refresments precede and follow the wauken who make that walk.

After a hearty breakfast the re-enactments shift to Bankton House where the re-enactors are encamped happy to talk, and this is where Colonel Gardiner makes his last brave stand against the Highlanders.

After lunch the two armies come face to face in Cuthill Park and the Highlanders win the day! Redcoat prisoners are taken to the Prestoungrange Gothenburg to be interrogated before the evening concludes with a Ceilidh at the Community Centre.

Volunteer Re-enactors always welcome ...

If any reading these notes wish to be involved in the re-enactments, and we hope you might, please feel welcome to contact our Alan Breck Regimental Agitant, Adam Watters, whose email is linked now agitant@battleofprestonpans1745.org



Published Date: July 6th 2008