Murals Fest Tasmania 2008 ... all the art works on ABC TV and in the Press
Tom Ewing Painted for Scotland in the Murals Fest in Tasmania ..but trompe l'oeil won the day ...

The Annual Murals Fest in Sheffield Tasmania which has inspired our own efforts in Prestonpans at Cuthill Park is reported on Australia TV from Tasmania at the link below. The winner was Marc Spijkerbosch from New Zealand.

CLICK TO LINK HERE Australian ABC-TV Murals Report & Images

Tom Ewing is now continuing his Murals Appreciation Visit at murals towns in the USA before returning to Prestonpans well in time for the Three Harbours Festival and the 2nd Prestonpans Murals Fest and Cow Painting [+ new Bull this year] in Cuthill Park.

Tom's work is shown first which includes Mt Roland in the background for real and as art; Marc's shown beside is The Endeavour from a French cave - complete details are at the ABC link above.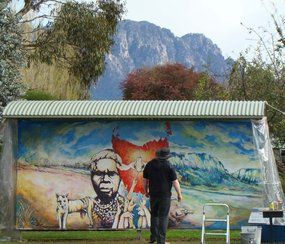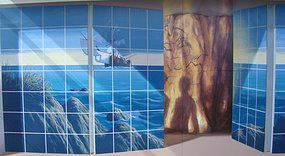 There was considerable press coverage also as shown below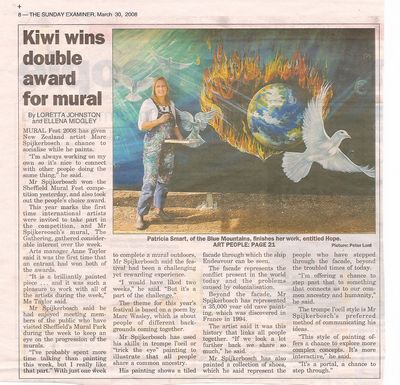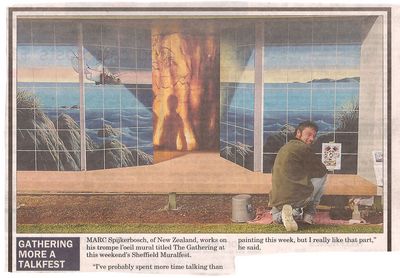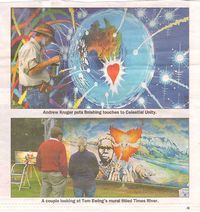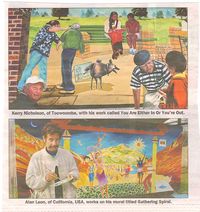 Every Event Has a Wag [Wregg]... and Sheffield was no exception ...

QUESTIONS IN THE PARK

'We are all Mural Artists in Sheffield, painting murals for Muralfest. We need patience with all the observers, for their questions are often a test!'

MARK "Why did you turn the boat around?"
They ask Mark as they walk on past.
"Refinement" he answers them graciously
And continues his painting task.

PATRICIA "What kind of paints are you using?
How long will you keep going?"
"Acrylics" answers Patricia
And keeps her brushwork flowing.

ALAN "Don't you know you'll never be finished?
You know there is too much going on.
Don't you know you have too much detail?"
Poor Alan just grins, and paints on…..

PATRICIA "What does the snake mean?"
& DIANA They all ask Diana and Pat.
"Is that Mount Roland behind it?
Why is the Owl holding that?"

TOM They ask Tom a very good question
He gives them a Scottish reply
"Where do ya come from?" They then ask him
For no-one can understand his reply.

ANDREW "Why are you doing it the wrong way?
You're doing the background last?"
Andrew has them all mystified.
His spots are multiplying fast.

PAUL "G'day Mate. How are you going?"
The families come early and late.
We think Paul must be related
To everyone in the State!!

FRANCES "Why do they all have candles in them?"
COLIN They ask with the page in their hand.
"It's all there,part of the poem" I explain
But they don't seem to understand.

KERRY "Are you doing it with an Airbrush?" They ask
As they watch him wield the airbrush, well-trained!
Kerry deserves an extra days painting.
All week he's kept crowds entertained!

The Mural committee are ever attentive. They've looked after us all week. "Would you like more paint, or coffee? Do your have your tea strong or weak?"

Cindy and Cheryl were photographed by tourists, as they sat knitting in the sun.

We all needed our winter woollies, but MuralFest has been great fun!

Frances J Rowland Wregg - April 2008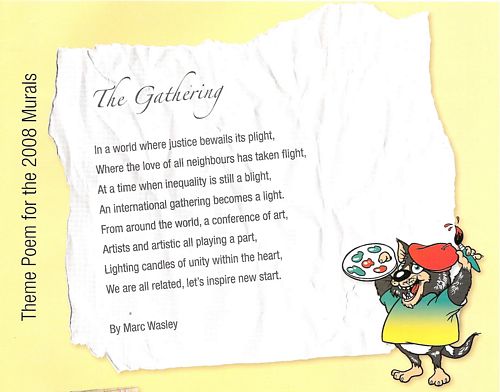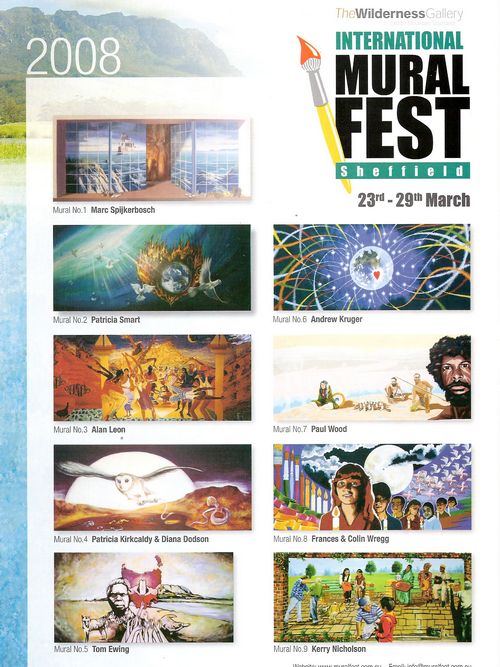 Published Date: April 9th 2008