Prayer for Victory at Prestonpans?
Elegantly created but its historical accuracy is doubted!

The artist William Skeoch Cumming [1864-1929] worked this tapestry The Prayer for Victory, Battle of Prestonpans 1745, shown below.

click on images to enlarge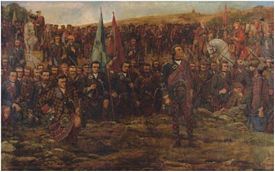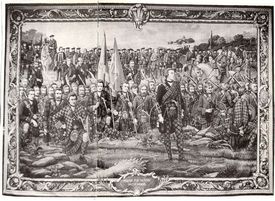 As can be seen it depicts part of the Jacobite army drawn up in battle array just before the engagement on September 21st 1745 although there seems to be no evidence that Prayer was ever formally offered in this manner.

Prominent in the foreground is Camereon of Lochiel standing in front of his kneeling clansmen who shortly thereafter captured the Hanoverian canons and mortars and helped put Sir John Cope's dragoons to flight.

Between the first and second lines, but a pistol's shot to the rear, HRH Prince Charles Edward is shown mounted on a grey charger. Near by is Lord Nairn on a dun coloured horse, Lord George Murray and other Jacobite leaders.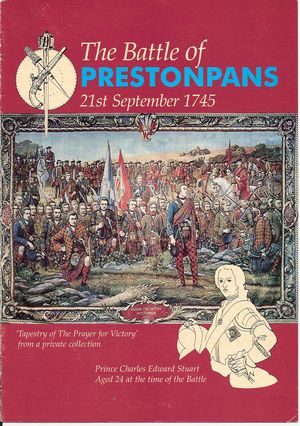 Skeoch Cumming was born Edinburgh and distinguished as a watercolour painter mainly of portraits and military subjects, as well as being a designer of tapestries. He studied at the Edinburgh School of Art and RSA School, serving in the Boer War and frequently sketching incidents of the campaign in watercolour. His works of course include those of Scottish military history and the Afghan campaigns and Napoleonic wars.
Published Date: April 8th 2008