2nd Artists' Competition for Cuthill Park during Three Harbours Festival 2008
2nd Prestonpans Murals Fest ...in Cuthill Park

Led by Pans artist Tom Ewing
Organised by The Prestoungrange Arts Festival

Following the success of last yearıs competition, artists and enthusiasts are once again invited to paint their own mural ­with a top prize of £500 for the winner. The second Prestonpans Murals Fest is part of the 3 Harbours Arts Festival and takes place at Cuthill Park in Prestonpans over the weekend 30 May - 1 June, 10,00am to 6pm over the three days.

This is a opportunity for any artist to showcase their artist skills.

This year's festival theme will be "Children's play in Cuthill Park".

To be considered send a small sketch, statement of why you wish to be considered. This competition is open to any artist of any age.

The closing date for this is April 30th May 2008. From this 6 artists will be selected by a Panel. The invited artists will be announced on the 5th May.

They will then be asked to come to The Mural Festival and develop their ideas and paint a mural on a canvas that is 4 feet by 5 feet on the two days of the festival for a fee of £200.

During the three day Tom Ewing will lead the project, fresh from his own contribution in The Mural Fest in Sheffield, Tasmania at The Global Mural Arts & Cultural Tourism Conference.

click on press cuttings to enlarge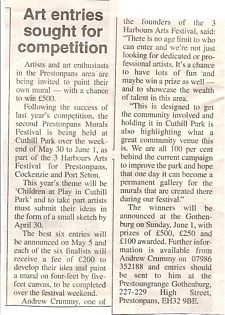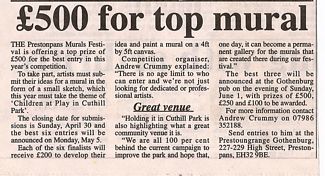 On the Sunday the competition will be judged by the one of the featured artists in The Three Harbours Festival, Tom Ewing, a member of The Prestoungrange Arts Festival and a member of the Prestonpans community. During the three days there will also be a comments box so members of the community can have a say on who they like.

Three prizes will be decided:

First Prize of £500
Second Prize of £250
Third prize of £100

The winners will be announced at a ceremony at The Gothenburg on the Sunday Evening on the 1st of June 2008. The artwork produced during the Fest will be on display throughout Prestonpans for the duration of The Three Harbours and beyond.

This competition is designed to get the community involved and holding it in Cuthill Park is also highlighting what a great community venue it is and hope that one day it can become a permanent gallery for the murals.

For more information on the competition contact Andrew Crummy on Tel: 07986 352188 and send entries to him at the Prestoungrange Arts Festival, The Gothenburg, 227-229 High Street, Prestonpans, EH32 9BE.


Published Date: March 12th 2008